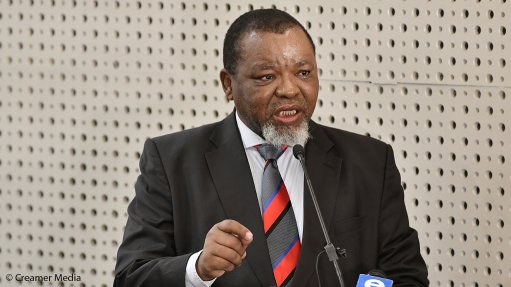 Mineral Resources and Energy Minister Gwede Mantashe
Photo by: Creamer Media
Mineral Resources and Energy Minister Gwede Mantashe reported on Thursday the National Energy Regulator of South Africa (Nersa) had provided its concurrence to a Section 34 Ministerial Determination, issued in February, which opened the way for the procurement of 11 813 MW of new electricity capacity.
The concurrence notice was the second provided by the regulator this year and came amid a return to the frequent use of load-shedding by Eskom and warnings that the risk of rotational power cuts could worsen unless new capacity was added to supplement that provided by Eskom's unreliable coal fleet.
Nersa's first concurrence notice related to the Risk Mitigation Independent Power Producer Procurement Programme (RMIPPPP), the final Ministerial determination for which was Gazetted on July 7.
Through the RMIPPPP, government aims to procure 2 000 MW of so-called emergency power to address a supply gap identified when the Integrated Resource Plan 2019 (IRP 2019) was published in October last year.
Bid documentation was eventually made available online on August 23 and a bid submission deadline set for November 24.
Preferred bidders should be announced on December 15 and financial close for selected projects was anticipated by April 30, 2021.
Projects procured under the RMIPPPP were expected to be fully operational by no later than the end of June 2022.
In a statement released on Thursday, Mantashe described the regulator's second concurrence as "another milestone" that gave effect to commitments made by President Cyril Ramaphosa in his 2020 State of the Nation Address to increase generation capacity and ensure security of energy supply.
"The Section 34 Determination enables the department to undertake procurement of additional electricity capacity in line with the IRP 2019. This will open up various Bid Windows (BW) including BW 5 for renewable energy," he said in a statement.
The Minister did not provide a firm date for when new bidding rounds would be launched, however.
In July, the head of the Independent Power Producer Office, Tshifhiwa Bernard Magoro, indicated that the next bidding round for the procurement of utility scale renewable-energy projects, often referred to as BW 5, would be launched only in the second quarter of 2021.
The capacity allocated through the latest determination includes 6 800 MW of wind and solar photovoltaic; 513 MW of storage; 3 000 MW of gas to power and 1 500 MW of coal.
"Work has commenced with key stakeholders, including the buyer, to firm up on the framework critical for the bankability of the programme," Mantashe said in a statement.
In all previous procurement programmes, Eskom has been the buyer.
When government launches BW 5, it will be the first renewables procurement launched since 2014, when projects with a combined capacity of 2 305 MW were procured.
Those projects stalled, however, when, in 2016, Eskom refused to sign the power purchase agreements, citing a return to a surplus generation position.
The deadlock was eventually broken only in 2018, when the Energy Minister Jeff Radebe oversaw the singing of the agreements for 27 projects.