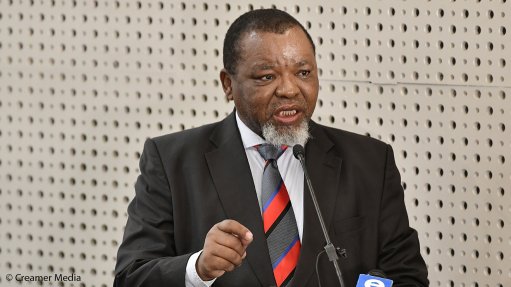 Minerals Resources and Energy Minister Gwede Mantashe
Photo by: Creamer Media's Donna Slater
Mineral Resources and Energy Minister Gwede Mantashe has described as "constructive" a proposal by the opposition Democratic Alliance for a meeting to discuss short-term solutions to the country's ongoing load-shedding crisis.
In his Budget Vote address, Mantashe outlined the initiatives his department was taking to ensure that new capacity was added and to close what Eskom estimates to be a 4 000 MW to 6 000 MW immediate shortfall.
These included the conclusion, by September, of the procurement of 2 600 MW of wind and solar capacity following Bid Window Five (BW5) of the Renewable Energy Independent Power Producer Procurement Programme, finalising the procurement of up to 2 000 MW under the much-delay and controversial Risk Mitigation Independent Power Producer Procurement Programme and launching B6 for a further 2 600 MW of renewable electricity.
Mantashe also reconfirmed that request for proposal documentation was being prepared for a 513 MW storage programme, a 3 000 MW gas-to-power scheme, a 1 500 MW new coal procurement, as well as for another 2 600 MW under BW7 of the renewables programme.
"We continue to work with other government departments, under Operation Vulindlela, to streamline approval processes for generation for own use," he added.
However, DA Member of Parliament Kevin Mileham requested that Mantashe open up a discussion to find short-term solutions to load-shedding, while making the addition of new generating capacity the "number one priority for the next five years".
International examples, including the deployment in Vietnam of 9 000 MW of rooftop solar in 2021, could be assessed, along with the prospect of increasing the allocation available for procurement under the next renewables bidding round from 2 600 MW to "whatever the market is prepared and able to provide".
Mileham also argued in favour of the urgent removal of any residual red tape preventing energy-intensive companies and miners from taking up the reform allowing sub-100 MW projects proceeding without a licence.
"Once we've addressed the short-term supply challenge, we can start looking at long-term solutions, and that's where nuclear and other technologies can be considered," Mileham said.
Mantashe said he welcomed the offer by the DA for a meeting and proposed a "session with many people under one roof" to discuss solutions.
"I think it's a constructive proposal in the sense that sharing ideas is the most obvious way of finding solutions rather than just nit-picking and looking for weaknesses."