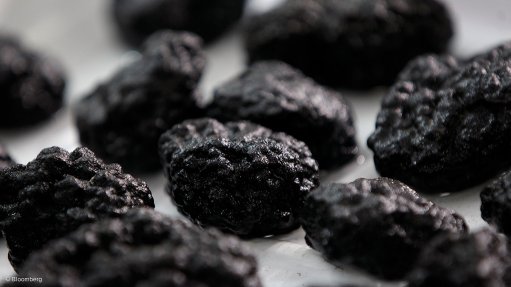 MANGANESE EXPERTISE Through services to manganese mines in the Northern Cape, Minrom has identified pitfalls and bottlenecks that occur during the exploitation of resources during mining programmes
Photo by: Bloomberg
Geological service provider Minrom states that its dedicated team of geologists, with years of manganese mining expertise, can provide crucial decision-making services for manganese mines in the Northern Cape.
Minrom's services range from greenfield exploration and three-dimensional geological block modelling to resource estimation and the on-site implementation of geological models and grade control models.
Additionally, the company assists mines in the planning and execution of resource and grade-control drilling programmes, which allow for accurate mine planning.
"Minrom can aid the on-site mining and exploitation of resources by providing fast and accurate results for mining companies. Specifically, through our on-mine-based site services to manganese mines in the Northern Cape, we have identified pitfalls and bottlenecks that occur during the exploitation of resources during mining programmes. We can, therefore, optimise the exploitation and mining processes during the early stages of mine development," explains Minrom on-site services senior geologist Elmar Human.
Years of experience, combined with a professional team of scientists and a good relationship with service providers over the entire value chain, have ensured that Minrom's services to mines in the Northern Cape have eclipsed that of its competitors. Minrom on-site services is further deployed in a number of African projects.
Further, the on-site grade control and blending programmes maximise resource optimisation through geological loss control, grade selection and output and provide reconciliation factors to analyse production limitations and optimise production planning.
"The on-site team quantifies the geological loss factors and the management thereof, greatly increasing ore yield and quality while reducing rework and dilution. We establish on-site laboratories and implement quality assurance and quality-control procedures to maximise grade control and optimise the production chain while limiting costs," explains Human.
Minrom has actively been working in the Northern Cape on several iron-ore and manganese projects since 2010. The company has completed work on 90% of the farms and properties with manganese and iron-ore resources in the Northern Cape and has been involved in most manganese resources on the African continent.
The company is currently involved with several iron-ore, manganese, copper, rare-earth, gold and graphite projects in Namibia, South Africa, Mozambique, Uganda, Ghana, Saudi Arabia and the Democratic Republic of Congo. Minrom is also involved in several smaller exploration projects for multiple commodities in the Southern Africa region.
"Having a team that can professionally manage mineral resources and identify shortcomings in the chain of production greatly improves the profitability and longevity of all mining projects," says Human.
Small and medium-sized mines can greatly benefit from Minrom's experience explains Minrom director Oscar van Antwerpen.