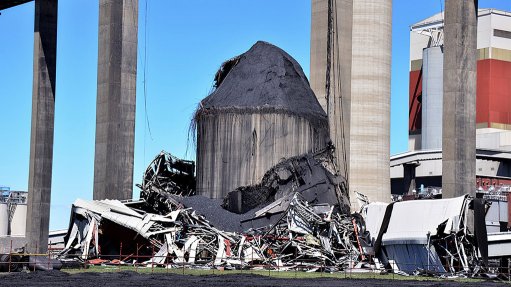 A design flaw resulted in the collapse of Mpumalanga's Majuba power station's coal storage silo last year, resulting in widespread load shedding, Eskom executives said on Monday.
"The investigation has been concluded which shows there was a flaw in the design of the silo. American design standards were used, which were of much lower standards compared to now," CEO Brian Molefe told reporters at a briefing in Johannesburg.
"Designs for the permanent solution has been completed, and these include the re-instatement of the damaged silo and associated coal conveyor system."
An interim solution, which included a constructed temporary conveyer belt to ferry coal was established, he said.
"The use of trucks to transport coal has been curtailed from an average 1 060 trucks before implementation of interim solution to an average 90 trucks."
Head of capital, Abram Mashego, said there was no negligence by contractors.
"There is no negligence on contractors as they did as per the design. The design codes applied at the time did not match the conditions of the silo… the issue was the design," he said.
The silo at Majuba collapsed in November last year, and resulted in reduced power output, forcing the power utility to implement load shedding daily across the country.