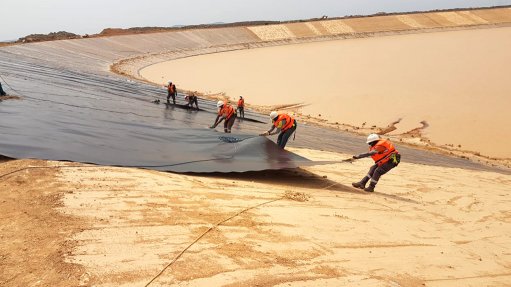 DAM DESIGN The tailings facility is designed to stack tailings 15 m high with an inward angle of not more than 20°
Civil engineering construction services provider ICON Group is currently progressing with work at a gold mine in Burkina Faso, where it is installing 200 000 m2, 1.5 mm high-density polyethylene (HDPE) lining as part of the construction of a greenfield tailings dam.
The country is the fourth-largest gold producer in Africa and is amid a modern gold rush, according to the planetGOLD Burkina Faso project, which was implemented by the United Nations Industrial Development Organisation.
Geosynthetics manufacturer Solmax appointed the Krugersdorp-based ICON for the HDPE linings installation contract of the project.
Awarded the installation of the HDPE lining's project in January this year, ICON started work on site in March. ICON linings operations head Jaco Potgieter says it is a great project for the company, and it is excited to partner with a well-recognised company such as Solmax.
"We have completed other projects across Africa involving tailings and return water dams, but this is the first project of its kind that we have been awarded in Burkina Faso," adds Potgieter.
Solmax, which has been the predominant geosynthetics supplier in the African mining industry for the last 25 years, became the sole supplier of geosynthetics to a major gold mining house two years ago. The company also secured all the associated installation work across the gold miner's operations.
"All tailings facilities and leach pads worldwide use geosynthetics to prevent mine water from contaminating groundwater," explains Solmax Africa manager Johan Behrens.
He adds: "Mines produce a substantial amount of waste. The effective containment of this waste is vital to a mine's environmental stewardship. Operations will grind to a halt if these facilities aren't up to code."
HDPE Lining Installation
Working together with local workers, the ICON team is able to install about 5 000 m2 to 10 000 m2 of lining a day during favourable conditions, Potgieter says.
With 35-m-long embankments sloped at 40° to 45°, the tailings facility is designed to stack tailings 15 m high with an inward angle of not more than 20°. At this stage, and before building a new dam, the tailings will be flattened and, once deemed safe, a second lift will be added. This involves placing another 8 m to 10 m of tailings on top of the original tailings pile, following which the facility will be capped.
While Solmax is involved in the design of tailings facilities, it also develops products specifically for the facility ensuring that waste is contained for 15 to 20 years or more, until it is deemed safe.
While Russia's Nordgold called force majeure on its Taparko mine, on April 9, citing the deteriorating security situation in the West African country, Behrens says Solmax has not encountered any major safety-related issues when working in the country.