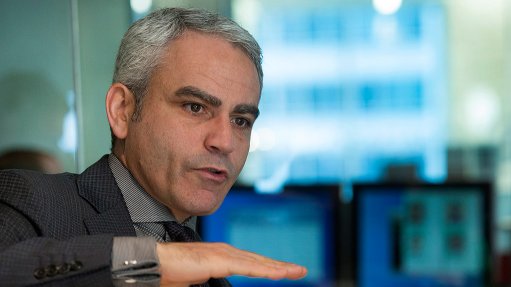 DAVID GAROFALO Assets in European and African countries could possibly meet Goldcorp's criteria, which includes low political risk and the existence of a mining code
Canadian gold producer Goldcorp, which could seek to expand its footprint beyond the Americas, expects to release its 2016 guidance after the markets close on February 25.
In January, Reuters reported that the company would have to look for large-scale assets outside the Americas as these become ever harder to find.
This is according to CEO and president David Garofalo, who will become CEO after Goldcorp's annual meeting in April, when current president and CEO Chuck Jeannes, who led the company since January 2007, will retire.

Garofalo explained that assets in European and African countries could possibly meet Goldcorp's criteria, which include low political risk and the existence of a mining code.
Mining Weekly reported in December 2015 that Garofalo had resigned as copper and zinc miner Hudbay Minerals CEO and president, following his appointment as Goldcorp president and CEO.
The world's largest gold producer by market value, Goldcorp also intends to release its 2015 fourth-quarter and full-year results on February 25, along with its mineral reserve and mineral resources statement as at December 31, 2015.
In October 2015, the company reported a bigger-than-expected third-quarter loss, as lower metals prices weighed on its bottom line, despite record output, leaving investors disappointed and its stocks trending in negative territory.
Goldcorp expected to hit the upper end of its full-year production guidance of between 3.3-million ounces and 3.6-million ounces, at an all in sustaining cost of between $850/oz and $900/oz.
Meanwhile, the gold miner declared its first monthly dividend payment of C$ 0.02 a share for 2016 on January 4. Shareholders of record, as of close of business on January 14 were entitled to receive payment of this dividend on January 22.
The company has paid monthly dividends to its shareholders since 2003, while Canadian resident individuals, who have received dividends from the gold miner after 2005, are entitled to an enhanced gross-up dividend tax credit on the dividends in accordance with tax legislation enacted in 2007.
These announcements come as Goldcorp declares that it will be shutting down its underground activities at its Dome mine, near Timmins, in north-eastern Ontario, Canada.
Dome has been one of the Porcupine district's most prolific gold producers. It contains hundreds of miles of drifts and hundreds of stopes on 33 levels. Access to the mine is exclusively through a shaft that extends to a depth of 1 665 m.
During its mine life, the Dome underground mine has produced 13.5-million ounces from 57-million tons, at an average grade of 7.4 g/t.
Several mining methods, including shrinkage, cut and fill, panel, conventional longhole and bulk longhole, have been employed since the start of its operations 105 years ago.
Porcupine also consists of the Hoyle Pond underground and the Hollinger openpit mines, as well as several large-tonnage stockpiles and a central milling facility.