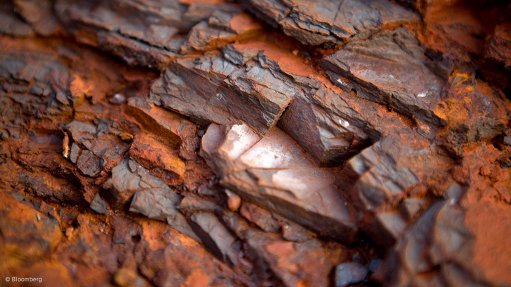 Photo by: Bloomberg
PERTH (miningweekly.com) – ASX-listed Magnetite Mines has updated the economics for its Razorback iron-ore project, in South Australia, following a maiden ore reserve at the Iron Peak deposit, and incorporating optimisation studies.
The company on Friday announced a maiden probable ore reserve of 362-million tonnes for Iron Peak, increasing the Razorback iron-ore project's ore reserve to two-billion tonnes.
"The rapid growth in ore reserves at Razorback coincides with the company's transformation in readiness to lead the development of the project, and the increasing interest of regional iron and steelmakers and major supply chain investors in securing the premium grade ore necessary to achieve low carbon steel production," said Magnetite Mines CEO Tim Dobson.
"We are also encouraged by the fact that Iron Peak remains open at depth and along strike and the study team is currently assessing potential further upside from the deposit from further drilling and investigations."
Magnetite Mines on Friday also updated the economics for the Razorback project, considering a base-case five-million-tonne-a-year production rate and an expanded ten-million-tonne-a-year production rate.
The base-case scenario estimated a mine life of 91 years at a mining rate of 57-million tonnes a year over the first ten years, with the project requiring a capital spend of between $1-billion and $1.3-billion, with life-of-mine concentrates estimated at 331-million tonnes.
For the expansion option, the mining rate in the first ten years would increase to 91-million tonnes a year, with the project's mine life decreasing to 39 years, while the pre-production capital cost had increased to between $2.3-billion and $2.8-billion. The project would still produce 331-million tonnes of concentrate over the entire mine life.
"We are positioning our 100%-owned, high-value and long-life Razorback iron-ore project to align with the transition occurring in the global iron and steelmaking sector. South Australia is fast emerging as a desired Tier 1 location for regional steel-producing nations to establish 'green iron' hubs based on proximity, existing infrastructure, stable regulatory environment, mandated 100% renewable energy, emerging green hydrogen availability and abundant potential for high-grade magnetite concentrate production. Within this transition, Razorback is ideally positioned at the front of the pack of next-generation magnetite producers," said Dobson.
"This project update combines the successful delivery of the optimisation study phase with the just-announced maiden ore reserve for the high-quality Iron Peak deposit, which is now prioritised for production in the project plan and improves the first ten years economics significantly.
"Our financial modelling has been deliberately conservative, incorporating adequate contingencies and acknowledging the recent inflationary cycle, while also reflecting emerging product price premiums for premium-grade iron-ore products that are forecast to increase over the coming years as the global steel industry delivers on its urgent decarbonisation commitments.
"Our next steps are to de-risk the final elements of Razorback's infrastructure requirements, which will allow us to complete a definitive feasibility study and commence a partnering process aimed at sharing capital and marketing risk with quality partners to deliver the best possible outcome for Magnetite Mines shareholders."