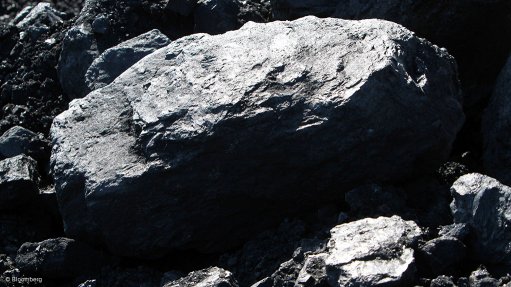 SIGNIFICANT RESOURCE The Mmamabula coal mine contains more than 90-million tonnes of high-grade thermal coal
Photo by: Bloomberg
Coal and energy company Maatla Energy remains on track to start site establishment and construction activities later this year, and production in 2019 at the company's Mmamabula coal mine, in Botswana.
Following the approval of an environmental-impact assessment (EIA) last month, Maatla Resources, a subsidiary of Maatla Energy, has submitted a mining licence application to Botswana authorities for the mine and expects approval within the next three months.
Maatla Resources submitted the application to the Ministry of Mineral Resources, Green Technology and Energy Security last month. "In Botswana, when you receive the EIA approval, approval of the mining licence is imminent," enthuses Maatla Energy CEO Jacques Badenhorst.
The company is developing an export coal mine, which is located in one of the main coalfields, in the southern belt of the Kalahari subbasin, as well as a gas-to-liquids (GTL) project. According to Badenhorst, the Mmamabula coal mine contains more than 90-million tonnes of high-grade thermal coal. "The project has a mine life of more than 25 years and is targeting production of 50 000 t/m, ramping up to 100 000 t/m within the first year of production."
Phased Approach
Badenhorst tells Mining Weekly that the company is following a two-phased approach, with the first phase including the mining and exporting of coal into South Africa and Southern Africa. Badenhorst explains that there is a significant market for sized coal in South Africa – "greater than 16-million tonnes per annum".
Maatla Energy will produce coal for cement and lime producers, paper mills, chemical industries, brickworks, breweries, sugar estates, hospitals and general boiler applications in Southern Africa. Badenhorst notes that the company has a logistical advantage to supply coal into certain South African markets, and the Mmamabula coal mine is strategically situated close to the planned Waterberg rail link for seaborne exports out of Botswana.
"An increasing energy demand, coupled with a distressed South African coal market, owing to lack of investment, also increases demand for Maatla Energy's high-grade coal. We aim to provide high-quality coal and sustainability of supply, which are the two main requests from coal traders," says Badenhorst.
According to Badenhorst, the recent Richards Bay Coal Terminal free-on-board export coal price of $94.12/t (as on April 25) illustrates that inland coal users are paying, on average, export parity prices for sized coal at the mine gate.
The second phase of the company's approach will focus on the GTL project. This entails turning coal into fuel for the Botswana market. Badenhorst says that, while Botswana currently imports fuel from South Africa, this lucrative project will ensure that Botswana has access to fuel. "We have received an expression of interest from State-owned company Botswana Oil for diesel-offtake, we submitted a request for proposal to Botswana Oil in August 2017 and we are awaiting adjudication."
The GTL development project will produce diesel to European 5+ standard using coal from Mmamabula, subsequently enabling Maatla Energy to become a manufacturer and wholesaler of diesel. Badenhorst says the target market for this project will be Botswana and Southern Africa diesel distributors.
Maatla Energy expects this project to start in 2021 subject to positive results of a feasibility study. The company has access to the necessary technology, construction capability, and has received an expression of interest for funding.
"The initial first phase funding for the project is about $40-million for the export coal project and about $250-million for the GTL project. Conventional finance is difficult for most coal developers to obtain, as many investors have pulled out of coal investments, however, Maatla is exploring various alternative financing options," says Badenhorst.
The company is investigating various funding options, such as offtake finance, vendor financing, debt and equity as well as possible private placement and initial public offering scenarios. This project will permanently employ about 400 people in the first phase.
"Botswana has only had one coal mine in the past 20 years. Maatla Energy hopes to become a leading coal company in the country through the Mmamabula coal mine," concludes Badenhorst.