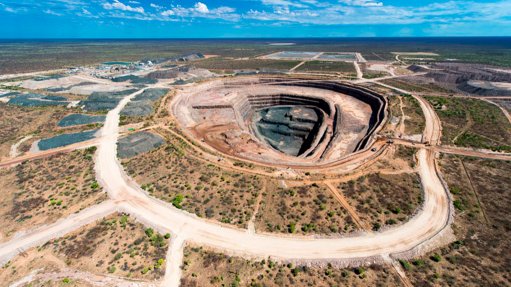 JOHANNESBURG (miningweekly.com) – JSE-listed eXtract subsidiary Eqstra Botswana's five-year opencast mining contract with TSX-listed Lucara Diamond Corporation's Boteti Mining, in Botswana, has been terminated after two years.
Eqstra Botswana, which started the mining contract in December 2014, will cease all mining operations at Lucara's flagship Boteti Karowe diamond mine on December 13, with the transition to a new mining contractor under way.
Eqstra received the termination notification on November 29.
Now, as Boteti allegedly intends withholding payment due to Eqstra for work done in October and November, owing to "irreconcilable differences" on the volumes mined, Eqstra plans to seek to recoup damages, in terms of the contract, which was due to conclude in December 2020.
"The contract value for Eqstra Botswana is approximately R500-million a year of revenue and contributed R8.5-million profit after taxation a year," eXtract said in a statement on Monday.
The company assured shareholders that it had made "all reasonable efforts" to resolve the issue and denied and refuted any allegations of "improper conduct relating to the performance of its contractual obligations."
Last week, Lucara insisted that, despite recent media reports, it was unaware of any fraud or illegal activities in relation to the mining contract, indicating, rather, that the performance of Eqstra under the contract remained a subject of discussion between the parties.
An "orderly transition" to a new mining contractor is under way, while operations on site continue with the plant being fed with stockpiled material from the south lobe.
"The change in mining contractor is not expected to have any material impact on production," Lucara assured its shareholders last week.
Meanwhile, eXtract said discussions were ongoing to minimise job losses in Botswana.
"eXtract's Botswana operations are ring-fenced to the local entity and will not affect eXtract's plans in bringing efficiencies to its balance sheet and operating model. eXtract will continue to assess all contracts to ensure the delivery of appropriate returns to achieve the company's strategy," it concluded.