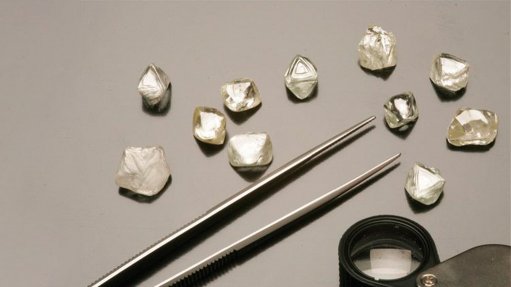 GABORONE, Botswana (miningweekly.com) – Botswana-focused Lucara Diamonds is spending $55-million on upgrading its Karowe diamond plant in central Botswana.
Capital expenditure of $20-million already under way is all self-financed by the Canada-, Sweden- and Botswana-listed Lucara, which last year generated revenues of $265-million-plus and a cash operating margin of $529/ct from Karowe.
This year's sales are forecast at 400 000 ct to 420 000 ct at an operating cost of $33/t to $36/t processed.
Currently all material goes through a dense media separation (DMS) unit but in the future all of the material bigger than 75 mm will be subjected to X-ray transmission (XRT) technology, which picks out the diamonds from their carbon, improves recovery of large diamonds and limits diamond damage.
"We'll be pioneering XRT recovery in diamond processing," Lucara COO Paul Day told Creamer Media's Mining Weekly Online.
To treat new density material as the mine deepens, a fundamental change in the circuit has been introduced.
Karowe is in late-stage commissioning of the new circuit, which is expected to be running to design before the end of this month.
XRT is the most technically interesting part of the circuit and de-risks damage to large and exceptional diamonds.
A 342 ct diamond recovered at Karowe in the first quarter of this year will be sold by exceptional diamond tender on July 16.
Lucara sells all its diamonds by open tender in Botswana, which has increased its bidders-to-viewers ratio.
In the past 17 months, 70 diamonds bigger than 100 ct have been recovered, with 12 bigger than 200 ct.
"We've almost lost count of the number of large and exceptional stones that we've recovered," Day told the thirteenth Botswana Resources Sector Conference here.
A movie during Day's presentation to the conference showed the XRT recovering two large diamonds.
The mineralogy of the ore changes at depth to include other minerals associated with diamonds that makes the separation of diamonds from the gangue through DMS less effective.
The revenue that can be achieved from the large diamonds also has to be protected by removing the diamonds from the circuit as early as possible before they are subject to damage from crushing or other attrition.
To maintain its throughput with a harder material, a secondary crushing circuit has been introduced that will send all material that is 75 mm and over through a secondary gyratory crusher.
The material that is under 75 mm, which contains the large diamonds, will be sent through a separate recovery circuit before it is crushed any further.
A tertiary crusher will also be included in the circuit because as the material gets harder, the opportunity to liberate diamonds becomes less and there is increased diamond lock up.
XRT tailings will then go into a further crushing set up.
All material less than 8 mm will go through the DMS and normal XRT recovery but the material between 8 mm and 60 mm will be taken out of the circuit early and put through the XRT.
"XRT allows us to extract liberated diamonds at the point of liberation rather than crushing and recrushing them and putting them through a DMS type technology.
"We scalp off the plus 8 mm material straight out of the autogenous mill, which is diamond friendly, and it goes straight into the XRT rather that than going to another crushing circuit.
"What we should see is an increased recovery of undamaged larger diamonds and a general reduction in our diamond damage," Day explained to Mining Weekly Online.