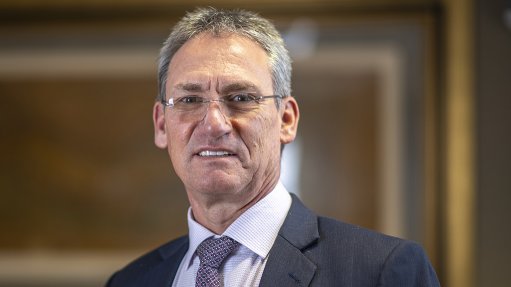 Gold Fields CEO Chris Griffith
JOHANNESBURG (miningweekly.com) – The performance of the long-life mechanised South Deep gold mine in Gauteng is now on a very positive trajectory, Gold Fields CEO Chris Griffith said on Thursday.
The world's third-biggest mine in terms of reserves delivered record productivity in terms of tons per rig per month in the six months to June 30 and strong gold output as expressed in kilograms per employee.
After the impacts of the second wave of Covid-19 were felt during the first quarter, South Deep produced 68 000 oz second quarter ounces at an all-in sustaining cost (AISC) of R615 178/kg, or $1 350/oz.
The once errant operation generated R407-million worth of free cash in the half-year compared with negative cash flow of more than R1-billion in 2018.
Speaking to Mining Weekly in a Zoom interview, Griffith said of South Deep: "It is a good grade, extremely large orebody. At that time it was the second-largest orebody, now it's third, and that was the reason why Gold Fields bought into it." (Also watch attached Creamer Media video.)
It is true to say, however, that for many years South Deep has not lived up to its promise because of the complexity of mining a large size orebody at depth.
"Over the number of years, the team itself has learnt the hard way about how to go about doing that and I think over the last three years, what we've seen is some very encouraging signs, productivity improvements, and, of course, over the last three years, the mine has been cash positive. That's always a good place to be after many years of losing very substantial amounts of money," said Griffith, who had several more things to say about why Gold Fields is fairly encouraged by the deep mine's progress.
One was that, over time, the team had designed a mining method appropriate for the mining of a bulk orebody at depth.
"They have learnt how to do this a lot better. They've also been through some fairly difficult times in 2018 when they restructured the mine, reduced the workforce by over 2 000, and I think they have a more appropriate sized workforce for a mechanised operation. The majority of that mine is now mechanised on a layout that works and a good leadership team.
Executive VP Gold Fields South Africa is Martin Preece and the Head of Operation at Gold Fields is Benford Mokoatle.
"We've got a good leadership team under Martin and Benford and we've got the mining layout that works and the results are that we continually see improving productivity and money making. So all round, the trajectory that South Deep is on is now very positive."
Mining Weekly: Can South Deep get to a level where it meets and beats global mechanised mining benchmarks?
Griffith: We're certainly not there yet. We think that from this year's production, there's still a possibility to improve by another 20% to 30% on top of what we are forecasting to achieve this year, over the next four years or so. That very encouraging trajectory is under way. The fact is it's a wide orebody so it means that you actually want to take as much as you can out of that orebody. Take the sweet spots out. But because it's a dipping orebody as well, you continually need to take new cuts to get into the lower portions of that orebody. I think long-hole stoping is not a type of mining method that is familiar to most South Africans but it's a fairly common bulk ore type of mining method that is used extensively across the world. As we build the skills to do this kind of thing over time you would, I think justifiably, believe that we can just keep getting better at this. If you look at the amount of metres drilled per rig over the last number of years, we have improved that by over 50%. The productivity for the teams working on those machines now is over 100% up on where it was just a few years ago.
Gold Fields mines in Australia, Chile, Ghana, including the Asanko joint venture, Peru and South Africa, and is ramping up the Salares Norte gold project in northern Chile.
The half-year gold production of the Johannesburg- and New York-listed company was 1 104 000 oz from the nine operating mines.
Half-year free cash flow from the operations was $399-million with an all-in cost per ounce of $1 274/oz.
It continued to deliver the average 10% higher gold price over the period to the bottom line, despite the increase in net operating costs and declared an interim dividend valued at $127-million.