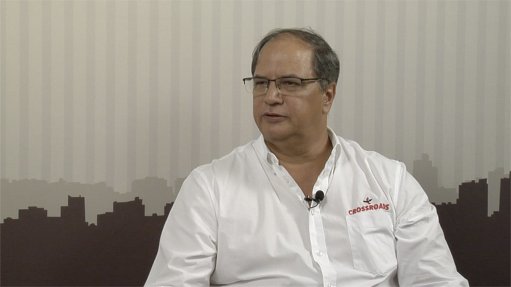 Crossroads CEO Pieter Vermeulen
General freight, fuel and bulk logistics company Crossroads will be building on its strengths and honing its strategy this year to grow its business, improve operational efficiency and increase value-add to its customers.
This strategy will significantly increase the company's market share in the specialized freight transport operator industry, where it already is a leading provider.
Ongoing investment, the company says, includes the development of innovative technologies as part of this growth strategy.
"This will allow the business to continue to improve on safety, reduce costs and streamline its operations. The improved use of technology ensures far better control over the end-to-end supply chain and ensures connectivity, which is an essential offering to customers," Crossroads notes, adding that through the development of its technology platforms it "wants to become the leading provider of real-time load and safety data per trip".
The company will also be investing in a professional driver training academy, which will address both the skills shortage and reduce risk, and improve safety in the industry.
"The lack of driver training has long been a challenge in the logistics sector and investing in a training academy not only addresses the skills shortage but also reduces risk and improves safety," the company says.
However, it was not an easy road to travel, as the chaos and disruption of the Covid-19 pandemic hit the South African economy hard, while an already difficult situation was further exacerbated by the 2021 riots in KwaZulu-Natal and Gauteng.
This was further compounded by extreme flooding in 2022.
"All of this affected the business adversely, although not directly in terms of loss of assets. The ongoing strain on our economy and the global economic situation has led to major instability in volumes from month to month. We are, however, expecting to see this settle down in 2023," the company says.
It adds that despite the ongoing volatility and instability in the market, it has continued to focus on empowering its staff, irrespective of the role they have in the business.
"This has enabled our staff to grow, becoming more accountable in their areas of expertise and delivering an ever-improving high-quality service to our customers," Crossroads says, highlighting that its company values are that of responsibility, entrepreneurship, safety, excellence, ethics, and trust to guide daily operations.
"Everyone within Crossroads lives the culture by embracing these values. As a business, we want to be seen as ethical, compliant and professional."
MINING INDABA 2023
The Investing in African Mining Indaba is considered the world's largest mining investment conference, as this is where the mining community comes together to spark change and drive investment and growth.
With transport and logistics integral to the success of the mining sector, and as a leading African logistics service provider, Crossroads says that it is essential for the company to connect with the industry, which sees it taking part in the critical dialogues on supply chain security and discussions on developing new strategies for the African mining sector.
"The African Mining Indaba brings together visionaries and innovators from across the spectrum, offering Crossroads an opportunity to showcase our abilities, while networking with industry stakeholders."
The company has a proud history of vision, success, commitment, dedication and transformation. Today it is an 80% black-owned company with 33% women ownership, employing about 680 people and owning a fleet of more than 400 vehicles.
It is a key player in the logistics and supply chain management sector in Southern Africa, optimising the value chain for specialised logistics, including mining, fuel and bulk liquids, freight, energy, explosives, and dangerous goods.