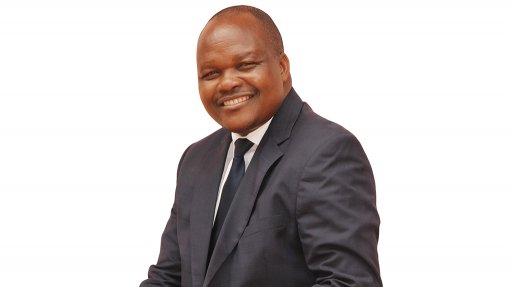 DR GODFREY GANDAWA We are in the process of setting up operations in Zambia and the DRC, working with mines that are considering investing in renewable energy technologies
Local logistics services supplier Mixcorp is including renewable-energy technology, that is suited to the mining industry, in the scope of its research and development (R&D) department to add renewables-related logistical services to its offering.
Mixcorp special scientific adviser Dr Godfrey Gandawa states that this will "enable the company to provide its clients with the latest and most appropriate energy solutions as and when these solutions become available to the market".
Mixcorp provides logistical services for the mining industry, specialising in bulk handling, loading and shipping, warehousing, containerising and ocean freight management. Its services include road, rail and sea transport solutions.
The company has bulk storage holding facilities and warehouses that are strategically located alongside a high-security metals depository. The company also offers bonded and non-bonded facilities, general cargo handling, customised unpacking and repacking, specialised cargo handling, cross-dock operations, bulk mining materials handling and barcoded tracking and reporting.
Mixcorp specialises in local and cross-border transport throughout the Southern African Development Community (SADC) region.
However, the company is now looking to offer a variety of energy-related services to the mining sector in the SADC region, including solutions that "go beyond" energy distribution, and the transportation of fuel by road or rail, Gandawa states.
"We're constantly enhancing our capacity and are on course to be among the most innovative research and consultancy firms, with the necessary capacity to help mines move efficiently from conventional energy sources to renewable-energy sources."
To achieve this, the company has made progress in adding training, research and consultancy services to its offering with regard to the engineering, installation and management of power systems and energy projects.
Gandawa adds that, while the mining industry in the SADC region has been slow in adopting the use of renewable-energy technologies, Mixcorp is aiming to develop by assisting miners in integrating renewable energies into their operations.
The company is active in several SADC countries, including Mozambique, Botswana, Namibia and Zimbabwe.
Mixcorp has become more active in providing energy-related services for the mining industries in Zambia and the Democratic Republic of Congo and is also collaborating with miners in these countries that are investing in the inclusion of renewable-energy technologies in their operations.
The company has also made significant progress in setting up gas-storage facilities in Namibia, Zambia, Malawi and Zimbabwe, Gandawa concludes.