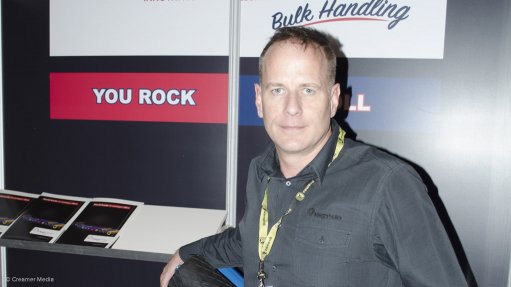 ADRIAN EVANS Depending on the operating environment, rollers manufactured by Megaroller last longer than standard steel rollers operating in the same environment
Photo by: Victor Moolman
South African conveyor, roller manufacturer and distributor Megaroller expects its new manufacturing plant outside Toronto, in Canada, to be operational from mid-November.
Megaroller is expanding its footprint into North America, launching its Canadian distributorship at this year's MINExpo International, at the Las Vegas Convention Centre, in Nevada, in the US, from September 26 to 28.
Megaroller boasts a patented bearing housing and sophisticated sealing arrangement, which, the company says, makes its rollers the preferred choice for extreme duty in abrasive and corrosive application environments.
Megaroller, which claims to be the first local manufacturer to produce high-density polyethylene (HDPE) conveyor rollers in the early 1980s, has an established presence in Canada, following the appointment of an exclusive distributor and now a manufacturing partner in the country.
The company, which supplies the mining and bulk handling industries, is also considering expansion into Nigeria through a local distributor and, once interest for Megaroller products has increased, it will open another manufacturing plant in Nigeria.
Megaroller business development manager Adrian Evans explains that Megaroller's Nigerian distributor is working to increase interest in the company's offering and hopes to have a more solid presence in the country by next year.
Megaroller's main manufacturing plant is in Brits, in the North West province of South Africa, with further manufacturing plants in Perth, Australia, and Santiago, Chile. Evans explains that the company's new patented steel rollers are unique because they have antijamming flingers that prevent spillage between the frame and roller face from jamming the roller.
"It's standard for flingers to be installed on the sides of our new steel rollers, as spillage may get jammed between the roller and the frame, and cause the roller to seize. "However, this is avoided when using our rollers, owing to the flinger and the body of the roller turning independently from the side of the roller," he says.
He points out that HDPE rollers manufactured by Megaroller last longer because they use a sealing system to prevent water or dirt from entering the bearing housing and, subsequently, from damaging the components. This is one of the major causes of premature roller failure.
All the company's rollers are also equipped with a bearing carrier that helps reduce vibration, another major cause of roller failure.
"Depending on the operating environment, our rollers, in general, especially the HDPE rollers, last a lot longer than standard steel rollers operating in the same environment," Evans explains.
HDPE is lightweight, resulting in energy saving through the use of less electricity to turn the rollers, which decreases the carbon footprint of conveyor systems. HDPE rollers also operate more quietly than steel rollers, which decreases their impact on noise pollution levels. Such lightweight rollers are also safer and easier for workers to install on site.
"The abrasive resistance of HDPE is also very good, compared with that of steel. You wouldn't think that plastic would be as strong as steel, but in these environments, HDPE is the better option. HDPE rollers are more belt friendly because they don't have steel components that can damage the belt should they, for whatever reason, get seized or jammed," Evans says.
"The proprietary sealing arrangement helps prevent water and dirt ingress when high-pressure washers are used at wash-down areas," he points out.
Megaroller has also developed a new scraper, which clears debris from the conveyor system. Launched earlier this year, it has already been distributed to West and Southern Africa.