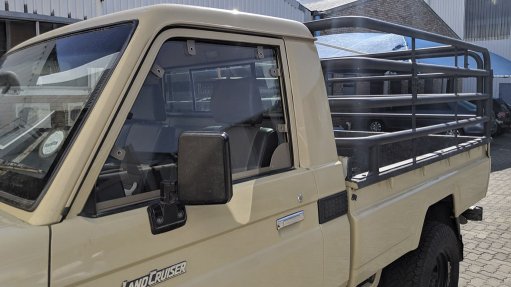 The ClippInn product secures a vehicle without making any changes to the vehicle's doors and interior
Photo by: SA Bullet Resistant Glass
An increased concern for the safety of people in light passenger vehicles is driving local safety glass manufacturer South African Bullet Resistant Glass (SABRG) to extend its operations to the full armouring of vehicles across the range, from double and single cab bakkies, to passenger cars and commercial vehicles.
As a result, SABRG has developed stronger, yet thinner and more discreet vehicle armour and security glass.
The company manufactures door glass, windscreens and rear windows for all types of vehicles, including Toyota Hilux, Ford Ranger, Nissan, Isuzu and the Hyundai i10, among others. The company also armours light- and heavy-duty trucks with its proprietary concealed armour kits.
"After the conversion is complete, it is impossible to notice that the vehicle is armoured to protect against a range of weapons, including fire from an AK 47," states SABRG CEO Hilton Franks.
The full armouring service is conducted at SABRG's factory in Wemmer, Johannesburg with meticulous attention to detail.
For over 40 years, SABRG has been a specialist in the design and manufacture of bullet resistant glass for military and civilian vehicles. The automotive glass supplied by Vehicle Security Glass provides protection for most threat levels ranging from handguns to rifles and manual attacks.
The company has taken great care to design the conversions with options that are fully discreet or semi-discreet, offering the client affordable solutions for maintaining the protection of their assets and people.
"Depending on the level of protection, the glass will be designed to reduce or completely remove the need to have alterations performed to the vehicle," explains armouring division MD Darryl Franks.

He notes that the state of manufacturing of bullet-resistant glass in South Africa is strong.
"Traditionally, South Africa has a long history of developing and manufacturing armour, and the shift from State-owned public manufacturing to private-sector manufacturing has ensured that we have kept significant skills and experience," he notes, believing that the country and SABRG "punches far above its weight" in terms of this capability.
Darryl Franks is quick to point out, however, that the business has not been immune to the economic upheaval caused by the Covid-19 pandemic or the disruption caused by power supply problems and load-shedding.
"Power outages are extremely disruptive to the manufacturing process and cause lead times to be increased, as well as a shortage of raw materials," he laments, but notes that the company has put several measures in place to mitigate these disruptions as much as possible, ensuring that production continues and vehicle assembly remains on track at its factory in Johannesburg.
He also points out that SABRG took a decision to support local raw material suppliers, ensuring that its supply chain remains intact, rather than relying on imports, which have been severely affected during the pandemic.
Innovation
For SABRG, and the armouring industry in particular, there are certain factors that drive innovation.
"For us, it is making the product lighter and more economical, as well as ensuring that it performs better than previous versions of vehicle safety glass. An underrated, yet crucial aspect, is making armoured vehicles less conspicuous," he adds.
The company manufacturers bullet-resistant glass that is about 40% to 50% lighter and thinner than a conventional glass laminate of equal strength, which allows for the product to be inconspicuous.
In this regard, the ClippInn product secures a vehicle without making any changes to the vehicle's doors and interior.
"The ClippInn system allows for simple installation and removal to bring the vehicle to its original condition and, it is reusable. The client has the option of protecting the windows and bottom of the doors partially or fully," he notes.
This versatile glass option is available for the side windows and rear of most automobiles, including entry-level passenger vehicles.
The company's proprietary product, Resistoshield, is used to protect doors and other opaque areas of the vehicle, such as the footwell and bonnet.
R&D
All research and development (R&D) is performed in house at the company's Johannesburg facility, with a particular focus on creating a thinner, lighter and more easily manufactured product.
The company uses the best available raw materials to ensure that all its products perform well at high and low temperatures, says Darryl Franks.
He notes that SABRG can offer this innovation since it has an R&D centre on site, as well as high-tech equipment in the factory, enabling the company to offer these technological advancements to its clients.
"That is the simple recipe: offer durable, thinner, lighter and an economically priced product that performs better for clients on an ongoing basis."
"Once we have designed the product according to engineering principals, we test the product in our shooting range to confirm its performance according to design parameters," he adds.
An important aspect of R&D is that the company aims to custom-design products for individual client requirements and prides itself on moving quickly from prototype to production, with shorter lead times.

Hilton Franks notes that the company has continuously adapted to technological improvements over its 40-year history, ensuring the company's success and longevity in a difficult economic climate, as well as ensuring that local manufacturing standards conform to, and sometimes exceed, international norms and standards.
"Passenger vehicles that are armoured by SABRG have saved lives and continue to do so," he concludes proudly.