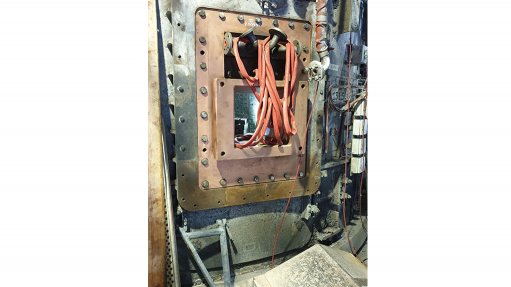 SPECIALISED APPLICATIONS Owing to the complexity of extracting so many different metals, the design of smelters for e-waste processing is more complex than usual
Foundry and engineering company Thos Begbie is supporting recycling and the circular economy by supplying specialist critical components for pyrometallurgical smelting in furnaces designed for reclaiming rare metals.
Reclaiming rare metals from waste – called urban mining – involves extracting base metals from waste electronic devices, also known as e-waste.
Mechanical crushing and separation of the various components are conducted before subjecting them to smelting in specially designed furnaces. This is followed by the patented chemical refining of the individual metals, which can then be reused.
According to the United Nations' 'Global E-waste Monitor 2020' report, about 53.6-million tons of e-waste were generated globally in 2019, with about $57-billion worth of gold and other valuable metals discarded rather than recycled. Only about 17.4% was recycled through urban mining.
With various studies showing urban mining to be considerably more cost effective than virgin mining, there are considerable latent economic opportunities lying in wait. Thos Begbie currently supplies furnace components to three major global e-waste recyclers.
The recovery of e-waste typically uses smaller smelters than those used for smelting primary mining ores, owing to the smaller tonnages handled and the higher yield for every ton: whereas 250 g/t might be achieved when smelting e-waste, only 5 g/t might be achieved in primary smelting.
"Owing to the complexity of extracting so many different metals, the design of these smelters is more complex, hence the added pressure on Thos Begbie to meet these more stringent specifications," Thos Begbie group executive director Edwin Dreyer tells Engineering News.
When more critical processes are used, there is a higher degree of risk, he notes.
To mitigate these risks, specialised monitoring equipment is included in the design of the furnace walls, which comprise water-cooled copper panels.
"Additionally, sophisticated programmable logic controller-driven continuous monitoring equipment immediately advises operators of minute changes in temperature. The system is so quick that it can predict a problem and automatically make a correction before it becomes serious," Dreyer explains.
One of Thos Begbie's major clients in the urban mining space is global materials technology and recycling group Umicore, which operates a highly sophisticated recycling and refining facility, in Belgium.
Umicore's facility can recover up to 17 precious and other metals from many different types of raw materials. The company's unique metallurgical flowsheet is a combination of pyrometallurgical and hydrometallurgical processing steps. It therefore requires world-class furnace components to ensure that its processing can be conducted at maximum efficiency.
Dreyer says that Thos Begbie is the logical supplier of these components, and explains that the relationship with its urban mining clients is more of a partnership than simply a vendor-buyer arrangement.
He says some of the critical components are consumables, which need replacing on a regular basis. Some of these are held in stock, owing to the long lead times required to produce them from scratch.
"A complete furnace rebuild takes place only once every five to eight years, but a catastrophic event can give rise to an unforeseen need for all the components on an emergency breakdown basis. We have recently done such a rebuild and still supply the consumable items on a regular basis," Dreyer says.
Making the Components
To create the components for urban mining smelting furnaces, the first step is to convert the drawings of the individual components to a three-dimensional model.
The model is then loaded onto the integrated computer numerical controls of the various machines that shape the rough castings to conform to the tight tolerances shown on the drawing.
"When any component is made for the first time, a pattern is made on site and a sand mould is created into which molten copper is poured. The pattern remains in our store for future use, whereas the sand mould is destroyed when removing the solid copper casting," Dreyer notes.
Most copper panels used in urban mining furnaces have a water reticulation mechanism comprising a coil of a pipe embedded in the mould before casting. The pipe is made of a special alloy of nickel and copper to eliminate corrosion. The bending and welding of these coils are also done on site.
"The tolerances of positioning the coil within the copper casting is not only critical but also vital to the efficiency of performance of the component during its lifetime in the smelter," he explains.
He adds that even small inefficiencies in the thermal performance of this component can vastly affect the profitability of the smelting operation. The tolerances need to be kept within 0.5 °C.
Thos Begbie's highly experienced sales engineers often cooperate with clients on any changes in the design of components to ensure the best possible assembly methodology, and the inclusion of any improvements in thermal and technical performance in the next run of production.
In such specialised applications, the margin for error is virtually zero. To ensure that all components are manufactured exactly to specification and to train the eventual site assembly contractors, the components are preassembled at Thos Begbie's facility in Middelburg, Mpumalanga, where virtual inspections are done using a high-tech video scanning process.
Items are then clearly marked, disassembled and packed in containers in the order required by the assembly contractors.