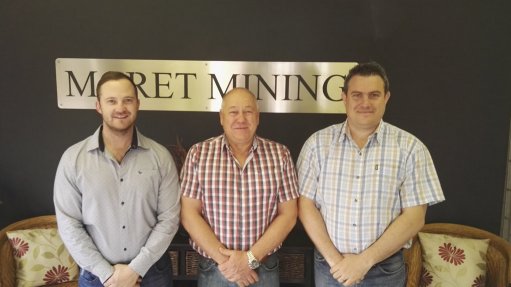 MORET MANAGEMENT Moret Mining sales director Stuart van Blerk, MD Roelf van Blerk and financial director Anton Pretorius
Owing to the downscaling of capital projects in South Africa's mining industry in response to unstable economic conditions, conveyor equipment manufacturer Moret Mining is expanding further into international markets for conveyor component supply projects.
Moret Mining financial director Anton Pretorius tells Mining Weekly that, although the conveyor industry in South Africa is healthy, competitive and manufacturing up to required standards, the lack of capital projects leads original-equipment manufacturers to pursue international prospects.
"We suffer the knock-on effects from mines' hampered buying power, but, internationally, there is demand for high-quality conveyor equipment and components," he avers.
International supply projects Moret Mining has completed include components for a coal mine in Australia, in September, a lithium mine in Australia, in August, and a gold mine in Ghana, in West Africa, in September.
Pretorius points out that the coal mine project in Australia was close to a town with an equestrian industry, which included an abundance of stables and horse breeding activities. Owing to this, the mine required low environmental-impact components to reduce noise pollution.
"We had to design and manufacture a special tolerance roller with emphasis on low noise producing conveyor idlers and dampeners on the conveyor frames."
This project inspired Moret Mining's development of an ultralow noise idler, which has been added to the company's mining product portfolio.
"What was significant about the design of the new low noise idlers was that we were able to manufacture them to weight class specifications. "We are able to achieve the low noise and weight class specifications without skimming and balancing the idlers. Through this product development initiative, we are now able to provide clients with a superior idler, at a reduced cost and a quicker lead time," explains Pretorius.
The company also offers value-added services such as belt surveys, stock holding, maintenance, installation and troubleshooting, as well as tailored solutions to meet local and international mining clients' needs and requirements.
Its belt survey service entails conveyor equipment inspections and comprehensive reporting to increase equipment efficiency and improve the effectiveness of plant operations.
Pretorius highlights that this service proved especially beneficial to a South African mining company that was struggling with the standardisation of equipment.
"Once we were awarded the contract, we found that the company was buying the incorrect components as well as sizes," he says, adding that the mine bought redundant stock, owing to a lack of knowledge about the proper conveyor components and their functions.
Moret Mining assisted the mine with effective inventory management, achieving reduced total cost of ownership, timely maintenance schedules and efficient conveyor operation.
"We recognise that the quality of our components and their functioning directly impact mines' materials handling performance and their ability to achieve production goals," notes Pretorius.
Meanwhile, as a member of the Conveyor Manufacturer's Association (CMA) of South Africa, Moret Mining invests in technical staff training to ensure excellent workmanship.
"Our production facility is able to provide occupationally directed, instructional and work-based learning programmes," Pretorius points out.
The company also provides networking services for clients that would benefit from the CMA's training programmes.