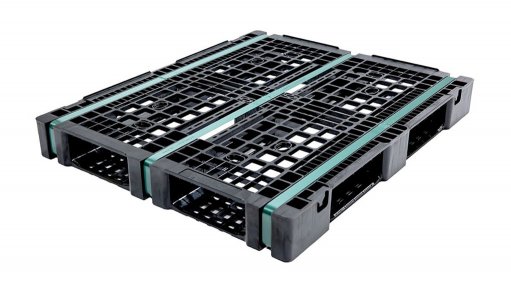 NEW PRODUCT The plastic pallets were manufactured in South Africa SOURCE
Plastic pallets distributer Premier Pallets will introduce new polyethylene terephthalate (PET) pallets to the market next month.
Premier Pallets owner Tilania du Preez says the pallets were manufactured in South Africa from PET plastic bottles such as Coke bottles.
"The whole bottle, including cap and label, will be recycled, and all three – PET, polypropylene and high-density polyethylene are sourced in South Africa
– of these components will create a strong rackable pallet at a very competitive price. After its useful life span, this pallet can be recycled to make more recycled plastic pallets. Our own locally used plastic bottles can now be recycled in South Africa to create a standout product, ready for use and export rather than it becoming trash on a landfill.
Du Preez notes that demand for plastic pallets has increased over the past few years, as many food manufacturers are forced by legislation to switch from wood to plastic, while others are choosing to switch to plastic based on the many benefits that plastic pallets provide. More countries are also restricting the use of wooden pallets from entering through imports, for example, Australia and US as from 2020.
She cites the example of the US, where listeria was found in wooden pallets in the last couple of years. Wood is absorbent and consequently becomes difficult to clean. Plastic pallets are, however, easy to clean using high-temperature, high-pressure hoses and cleaning detergents without compromising the integrity of the plastic, she adds.
Plastic pallets do not deteriorate like wooden pallets in wet weather and are not susceptible to insect contamination, as pests cannot penetrate the plastic to infest fresh fruits and vegetables, meat, poultry and fish, and it does not absorb pathogens or harmful bacteria such as salmonella, coli and listeria, explains Du Preez.
Further, plastic pallets are typically lighter than wood pallets, making them easier to handle and also adding less weight to shipments, thereby saving fuel costs.
Du Preez highlights that packaging materials, such as pallets, form a critical component of the shipping and logistics industry. "The market share of plastic pallets is on the rise; thus, the smaller carbon footprint of the pallets is a critical factor."
Using plastic pallets is also safer for workers because plastic pallets do not contain screws or splinters and, while the initial cost of replacing wooden pallets will be at some cost, the longevity of the product will save costs over time, she explains.
Further, she mentions that switching to plastic pallets is one way of going green in the industry. "Premier Pallets offers clients pallets made of recycled plastics –more than 90% of our pallets are made of recycled plastics – and we also buy used plastic pallets and resell them. Therefore, we offer clients the opportunity to reuse rather than buying new pallets."
Du Preez concludes that recycling and reselling are good options for the environment, and companies that use plastic pallets can save money by reselling their used pallets or send them for recycling.