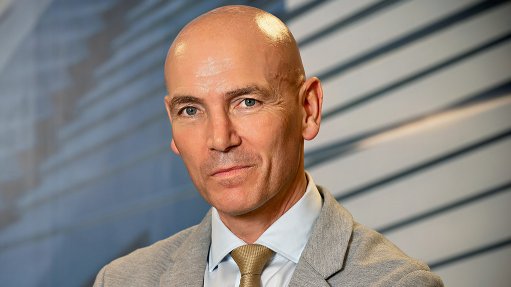 Marula Mining CEO Jason Brewer.
JOHANNESBURG (miningweekly.com) – Sales of lithium processed out of stockpiles at the Blesberg project in the Northern Cape are expected to commence this month.
"We're on track for the first delivery of a thousand tons through to the offtake party that we've contracted with," Marula Mining CEO Jason Brewer told Mining Weekly in a Zoom interview. (Also watch attached Creamer Media video.)
The first shipment of high-grade 'run-of-mine' lithium ore is being undertaken under a $5-million lithium prepayment facility to a South Africa-based subsidiary of global commodity group Traxys.
"We're well funded and well supported, and lithium is one of those commodities with tremendous demand growth and prices that are at an all-time high, so I think we're in a good position to take Blesberg forward into being, hopefully, South Africa's premium lithium operation over the course of the next two to three years," said Brewer.
Aquis Stock Exchange-listed Marula is a mining and exploration investment company focused on identifying and targeting investments in advanced and near-term production and revenue generating opportunities within Africa's mining sector.
The company is particularly set on mining investments in commodities that are considered critical to meeting the demand from modern green technologies and the battery metals sector.
In the last few months, the pioneering South African lithium project has gone from zero employees to 50, of which over 90% are from the local community. The feasibility of developing an openpit mine once stockpile resources are depleted is under way, which would generate more local employment should it go ahead.
Stockpile processing is taking place at the active operation, with residues being moved to a new stockpile site, owing to the existing stockpiles being on top of the pegmatite from which lithium could in future be extracted.
"This is almost like a pre-strip operation we've got at the moment, just by removing those stockpiles. Our contractors, Southern Metals Processing, are doing a great job.
"We've got between 250 000 t and 400 000 t of stockpiles there. Blesberg was a former mine mostly for tantalite, so there's 80 years of intermittent mining activity out there.
"We're looking at between two and three years of just reprocessing those stockpiles. That gives us a good base upon which we then look at the broader exploration and hard rock mining potential that exists at Blesberg," said Brewer.
Blesberg is located in one of South Africa's biggest mineralised lithium pegmatites.
"That's been the subject of a lot of historical work and its proven. It's now about how we can, in the current strong commodities environment, take this forward and build a long-term, sustainable ten- to 15-year-plus mining operation, which will have big implications for the mining sector in South Africa," said Brewer.
Marula secured initial interest in the beginning of July. The fenced area has accommodation, ablution blocks, a mobile crushing screening plant, several dump trucks and excavators as well as gensets ahead of a longer-term renewable energy solution, which will likely involve solar power and possibly also wind power.
"The wind at Blesberg is quite significant. We've had to solve a number of dust issues with the processing that we're doing, so wind is also an alternative but solar is clearly high on our list and we've been approached already by a number of groups to provide our longer-term power requirements," said Brewer.
Mining Weekly: What are your plans for the operation beyond stockpile mining?
Brewer: We've already got our exploration plans together. The existing mining operations and the stockpiles have come from the Noumus l pegmatite. That's one of a whole swarm of pegmatites in that region. There's the parallel Noumus ll and we will be doing further drilling, a lot of bulk sampling and a lot of trench work there. The idea is to establish a long-term 10-, 15- to 20-year mining hard rock openpit mining operation.
How much lithium is in the stockpiles?
In September, we reported a one ton bulk sample that came out at 6.19% spodumene. Previous work by Mintek on some of the bulk sampling came up with between 3% and 6% recoverable through some very simple dense media separation plants. Initial estimates of 10 000 t to 15 000 t was what the previous geologists looked at. We think it's significantly more than that, which is why we think we've got a two- to three-year mine life, just on reprocessing those stockpiles.
Will you also be marketing the tantalum?
Absolutely. It's one of those great by-product credits that you get in there and something where the pricing is very attractive. Our initial focus has clearly been on the lithium, and importantly as well, not on the fines. Of the existing stockpiles, we've not focused on the fines, which accounts for about 30% and a lot of the tantalum is contained within that. As we optimise our operations over the first half of 2023, we'll be able to look to adding even more value to the processing of this operation.
How did the global commodity group Traxys become involved?
That was through Southern Metals Processing. They've got a very strong relationship with the group in South Africa and have previously been involved with some tantalum operations out of Southern Africa and Zimbabwe. They came in through those personal relationships, they did their independent due diligence, had people on site. A very detailed technical geological report was completed, and they agreed to advance $5-million to us, of which we've already drawn $2.5-million. This was used to commence the reprocessing of the stockpiles and also to allow us to increase our shareholding in the project. We've put it to good use. Once we've delivered the first 1 000 t to them later this month and in February, then there will be another advance of $2.5-million to us. That will then give us the opportunity to look at potentially increasing the monthly processing rates of the stockpiles, but also to apply some of that to broader exploration at Blesberg. To have Traxys involved is a big endorsement of the merits of the project and of the lithium within the project itself, so a very good transaction we did with them.
What should be the biggest takeaway from this interview?
The biggest takeaway should be that stockpile reprocessing is just the cream. It's the bonus that allows us to demonstrate that we, as a London-listed company, can come into South Africa, with a South African management team and South African partners, and operate a mine very quickly and be able to deliver a product to the export market. We remove all those concerns about operating in South Africa. The takeaway is we can look beyond the stockpile reprocessing project, which we're in now, to the hard rock potential at Blesberg, which is tremendous.