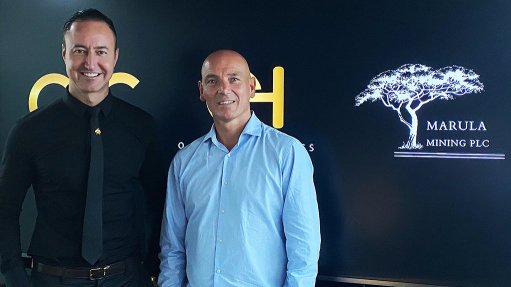 Q Global Commodities CEO Quinton van der Burgh (left) and Marula Mining CEO Jason Brewer.
JOHANNESBURG (miningweekly.com) – In conjunction with a proposed Aim listing in London, Marula Mining is going to have an additional listing on the Johannesburg Stock Exchange (JSE), Marula Mining CEO Jason Brewer told the Junior Indaba on Wednesday.
"We're in the process of appointing our advisers," said Brewer, who spoke of Copper 360 as having done "a fantastic job" with its April listing on the JSE's AltX,"and we'll see how we progress." (Also watch attached Creamer Media video.)
Battery metals investment and exploration company Marula, with its Blesberg lithium and tantalum mine in the Northern Cape, has received a funding boost by clinching a partnership with Q Global Commodities, headed by South Africa's Quinton van der Burgh.
Marula is currently listed on the Aquis Stock Exchange in London.
"We're very much focused on making sure we are an African-focused company. Whilst listed in London, to be honest guys, it's post box for us. Our whole operating administrative team is based out of Nairobi. We have an office in Kimberley. We have an office in Dar es Salaam, and literally just there in Sandton, we have our major shareholder and our funding partner in place, which is critical for us.
"One of the big reasons about being here and coming here on the JSE is we did a transaction earlier this year with Quinton van der Bergh, who is probably best known from the coal-mining sector.
"He's diversifying into the metals, the hard-rock, and certainly into battery metals. He's coming on. Q Global Commodities are going to be taking a 51% interest in us. Quinton is going to be taking his first seat, I believe, on a listed company, and they are investing a lot. Basically he funds us through all our projects, the project here in South Africa, the three projects in Tanzania, and the ones we're going to be announcing duly in Zimbabwe and Kenya. So, Patrycja (a reference to JSE business development manager Patrycja Kula, who was present in the audience) we'll be working very closely with your team to make sure we add to those 12 junior mining companies on the exchange," Brewer told the Indaba, chaired by mining luminary Bernard Swanepoel.
"We're working with communities we live with and that brings on additional responsibilities. In the space of six months, we've grown our workforce from three to just over 100 people, here in the Northern Cape and up in Tanzania, so we're moving very quickly, and certainly by the end of the year, we're probably going to be about 250 to 300 people.
Blesberg, operated intermittently for more than 80 years, has 250 000 t to 400 000 t of stockpiled waste. This was a small operation mined primarily for its tantalite.
"Within that pegmatite, is very high grade spodumene, lithium. We've done multiple samples there. It's running between 5% and 8% of what is typically exported as a spodumene concentrate, so we started reprocessing those dumps in November. We secured a prepayment from a Swiss-based trading group for $5-million to completely buy out all the minority shareholders and fund the initial development there.
"Just last month, we took delivery of six brand new bits of mobile mining equipment, courtesy of Q Global Commodities, courtesy of Bell Equipment. That has allowed us in the space of a month to double production, double the movement of volumes from that mine.
"We are now delivering the spodumene concentrate through to our offtaker. The first deliveries are taking place this week.
"We've had a pilot plant in Joburg taking that spodumene and producing lithium carbonate, something we're focused on – not just producing a raw product but producing an intermediate product," said Brewer.
The lithium carbonate produced in the pilot plant has been tested and the process is being independently verified with a view to producing an initial 1 000 t/y of lithium carbonate which is going for roughly $40 000/t.
"For a company of our size producing at a revenue base just purely on that is going to be something very significant for us," said Brewer.