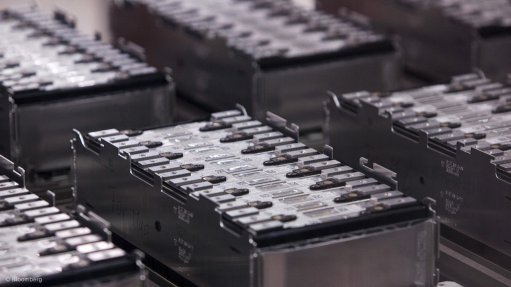 Technological advancement in the battery space pose upside risks to lithium demand
Photo by: Bloomberg
Despite strong production growth in the years to come, Fitch Solutions Country Risk and Industry Research expects the global lithium market to remain tight in the coming years as the green transition accelerates, boosting demand for batteries spanning from electric vehicles (EVs) to utility-scale batteries.
The unit also expects the market to record increasingly large deficits to 2030.
It sees lithium supply facing a number of tailwinds and bottlenecks, which could "deeply alter the market's dynamics".
Lithium supply will face a number of vulnerabilities, including geographical concentration at both the mining and refining level, as well as the limited presence of established and large mining players, which pose risks to the project pipeline execution, Fitch Solutions notes.
It says that rising resource nationalism in key lithium markets could also hamper the development of new projects.
In terms of these bottlenecks, Fitch Solutions notes that, firstly, the geographical market concentration of lithium, both from an upstream lithium sector perspective and lithium refining level, could pose risks in the coming years for lithium refiners or battery manufacturers should disruptions occur in one of these strategic countries.
Secondly, it says, rising government interventions and geopolitical risks related to the lithium sector could pose risks to procurement.
Thirdly, the small number of large players poses risks to new projects execution.
Lastly, the race to secure the most environment-friendly lithium could leave battery manufacturers scrambling for resources, Fitch Solutions posits.
However, it notes that lithium reserves are ample and growing, suggesting plenty of potential to boost supply in the long term.
The ongoing development of new lithium extraction techniques – which would also boast better sustainability credentials – could boost primary supply of lithium. The upcoming development of lithium recycling and uncertainties around its timeline could also surprise the upside supply expectations, the unit indicates.
Fitch Solutions forecasts the global lithium mine production will accelerate in the coming years, as existing new projects make quick progress, while new projects emerge amid the strong momentum behind the green transition.
It expects global output to rise by about 600 000 t of lithium carbonate equivalent between 2021 and 2025, compared with the 240 000 t added between 2016 and 2020.
Fitch Solutions also sees production rising by 290 000 t between 2026 and 2030 and it notes that its long-term estimates are on the conservative side.
Well-established lithium-producing countries are expected to record further growth, while a number of new lithium producing markets will emerge in the next decade.
These emerging producers include Mexico, Serbia and Zimbabwe, the US, Canada, Germany and some other European countries.
Fitch Solutions notes that technological advancements in the lithium extraction space are progressing, posing upside risks to lithium supply. Moreover, technological advancement in the battery space poses upside risks to lithium demand.
In terms of prices, these have rallied in 2021 and are now at record high levels, amid the sharp acceleration at a time when global supply struggled to expand.
Fitch Solutions expects lithium prices to average higher on a year-on-year basis this year, with carbonate prices estimated at $21 000/t and hydroxide at $20 812/t.