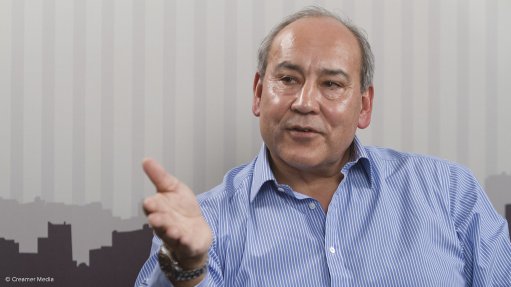 Montero CEO Dr Tony Harwood
Photo by: Duane Daws
JOHANNESBURG (miningweekly.com) – Significant concentrations of lithium mineralisation have been established in Namibia, where Montero Mining and Exploration has completed assaying historical drilling results.
The Toronto Venture Exchange-listed company announced on Wednesday that lithium-bearing mineralisation, found to be continuous on surface, also extends to depth, resulting in the company, headed by CEO Dr Tony Harwood, taking steps to define a potential resource at the Soris lithium project in central Namibia, northwest of the town of Uis.
Montero has an option to acquire 80% of Soris, which will trigger the spending of C$1-million and the completion of a feasibility study within three years of the transfer of the mining rights.
Demand for lithium, used in the rechargeable batteries of electric vehicles, is forecast to rise as production of electric cars rises, with battery grade lithium currently selling at $20 000/t.
Positive lithium values from inclined and vertical drill holes have been returned from the spodumene pegmatite intercepts. Spodumene has been identified as the major lithium-bearing mineral.
Thirty-one reverse circulation (RC) drill holes were completed in 2015 to test for tantalum and tin on the property, where Montero is analysing for lithium, cesium and rubidium from sample pulps.
Surface channel sampling returned lithium values of 1.93% lithium oxide (Li2O) over 14 m. Re-assaying of the RC drill chips returned Li2O intercepts of 0.96 % Li2O over 44 m, 1.26% Li2O over 25 m, 1.05% Li2O over 22 m and 1.12% Li2O over 21 m, the company told Creamer Media's Mining Weekly Online in a media release.
Montero, which is reviewing and evaluating other opportunities from its operating base in South Africa, also has a rare earth elements project in Tanzania and a phosphates project in South Africa.