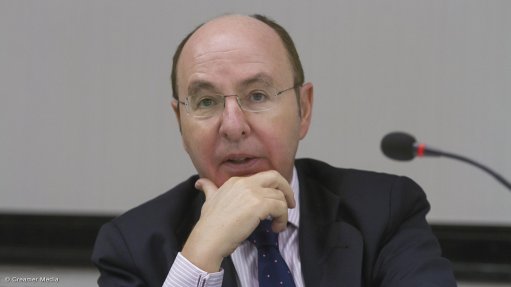 Herbert Smith Freehills (HSF) Africa Group global co-chairperson Peter Leon
Following the Covid-19 pandemic's "devastating impact" on the South African economy, it is "critical" that President Cyril Ramaphosa identifies what measures the South African government will implement to affect the country's economic recovery, says Herbert Smith Freehills Africa Group global co-chairperson Peter Leon ahead of the President's State of the Nation Address on February 11.
Referring to the World Bank's Global Economic Prospects Report, published in January, Leon says South Africa's gross domestic product (GDP) likely contracted by 7.8% in 2020.
"This is three times more than the average contraction experienced in other emerging market and developing economies (EMDEs) and 3% greater than other commodity exporting EMDEs," Leon laments.
It is, therefore, critical that measures be identified, he adds, noting that there are "a number of issues that the government cannot ignore anymore". These include mining and energy.
In relation to mining, according to information published by the Minerals Council South Africa, mining's GDP declined in nominal terms by nearly 4% in 2020. This is despite the fact that most minerals traded above their pre-pandemic levels by October 2020, including gold, which is currently trading at about $300 higher than in January 2020.
"What is most concerning is that exploration expenditure amounted to 2% of South Africa's mineral production value and less than 1% of global exploration expenditure in 2020," Leon notes.
To change this trajectory, he suggests that government should urgently amend the Mineral and Petroleum Resources Development Act to limit administrative discretion, impose strict time periods for making decisions and to remove unnecessary obligations which do not benefit the mining sector or mine communities.
Additionally, he suggests that government implement mechanisms that will promote more exploration and greenfield projects, as well as that it develop and implement an online cadastral system which is open and easy to use.
Leon says the cadastral system should provide a functioning online platform where all licensing applications are submitted and tracked and information in respect of South Africa's mineral deposits and existing licences are easily accessible.
"This will grant prospective investors insight into South Africa's actual mineral wealth and highlight investment opportunities."
He further recommends that government amend the Mining Charter III and create a system which empowers workers and communities and promotes security of tenure in relation to existing rights. "The mineral regulatory system should be fair, predictable and stable."
With regard to energy, Leon says the Upstream Petroleum Resources Development Bill provides the government with a "unique, important opportunity" to promulgate legislation that will instill investor confidence.
"The initial version of the Bill did not achieve this, and it is therefore important for President Ramaphosa to indicate when the next version of the Bill will be published, and confirm that it will create a clear, transparent and predictable regulatory regime," Leon states.
Additionally, he suggests that government should enhance and further incentivise private sector participation in the sector and in clean energy generation.
Notwithstanding Mineral Resources and Energy Minister Gwede Mantashe's comments during the 2020 Investing in African Mining Indaba to expedite applications for generation licences, Leon says "this seems to have garnered insufficient attention".
The pressure on South Africa's energy bill could also be significantly reduced if government increased the licensing exemption threshold from 1 MW to 50 MW, which would also advance its clean energy undertakings under the Paris Agreement.
"This would facilitate electricity generation investment by large electricity consumers, and would be of benefit both to South Africa's measures to limit climate change and support energy security which is a necessary precursor to economic growth and investment," Leon concludes.
Meanwhile, community organisations the Mining Affected Communities United in Action and Women Affected by Mining United in Action in a separate and joint statement called on the President to "reverse his embrace of big business and to ensure that mining communities are ensured the rights set out in the constitution".
The organisations are encouraging Ramaphosa to "engage and consult and work together in genuine partnership with mining affected communities", and are urging him to "live up to the high ideals" of the Constitution and to ensure that the concerns "are treated with the same urgency and preference" as big business.