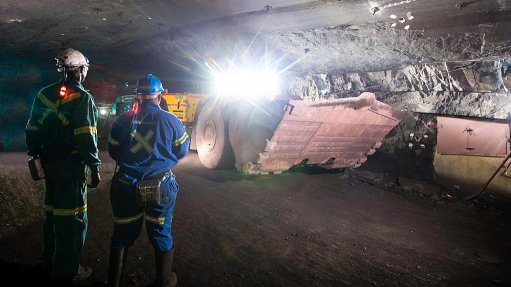 PROXIMITY DETECTION Moving machinery incidents were the cause of 12 deaths in 2017 and to date three this year
Educating the local mining industry on the correct application of and legislative requirements regarding pedestrian detection system (PDS) solutions is a priority, given the pending implementation of stricter safety regulations, says mine safety equipment supplier Booyco Electronics.
Chapter 8 of the 1996 Mine Health and Safety Act (MHSA) that regulates the operation of mining machinery and equipment, was amended on February 27, 2015, by then Mineral Resources Minister Ngoako Ramatlhodi. The amendment, due to come into effect in June this year, requires stricter trackless mobile machinery requirements, stipulating that employers at mining operations must identify potential risks relating to trackless mobile mining equipment and take steps to mitigate collisions between pedestrians and mobile machinery.
According to the Government Gazette, published on February 27, 2015, "all underground diesel-powered trackless mobile machines must be provided with means to automatically detect the presence of any pedestrian within its vicinity".
Upon detecting the presence of a pedestrian, the operator of the machine and pedestrian must effectively be warned of each other's presence.
Moreover, should no action be taken by the pedestrian or operator to prevent a potential collision, the machinery must automatically resort to a fail-safe mechanism that automatically brings the machinery to a halt.
Booyco Electronics MD Anton Lourens states that the amendment is intended to protect mineworkers, who work near machines, from pinning, crushing or striking accidents.
He underscores that the underground mining environment, in particular, is a dangerous workspace, often made worse by poor visibility: "Underground vehicle operators have a view of only 30% to 40% of their surroundings, yet pedestrians assume that operators can see."
Therefore, lack of visibility, paired with narrow working areas, often leads to incidents between man and machine in underground mining operations, Lourens says, highlighting that moving machinery is the second-highest cause of fatalities in the South African underground mining environment, after fall-of-ground accidents. Moving-machinery incidents were responsible for 12 deaths in 2017 and three to date this year.
Lourens stresses that implementing the correct PDS equipment is necessary for operational safety – a sentiment that has been supported by the mining safety legislation amendment.
However, mining houses often do not understand the functionality of different PDS technologies, with a lack of understanding regarding PDS solutions and their applications often leading to their being implemented ineffectively, he explains.
Moreover, mining houses often turn to the cheapest PDS solution to "tick a legislative box", as opposed to conducting research on which PDS solution would best suit a specific operation, Lourens suggests.
He says the most significant issue that mining companies face in this regard is buying PDS equipment that is not fit for purpose. This may lead to false positive readings, resulting in PDS solutions that are not trusted by end-users and a lack of user buy-in.
Lourens emphasises that Booyco Electronics is well established in the local PDS environment and draws on its ten years of experience to provide mining houses with different technology solutions that can be tailored to fit the requirements of each mining operation.
The company offers four different PDS solutions, including a range of very low-frequency equipment for underground operation and pedestrian detection, ultrahigh-frequency PDS solutions for underground vehicle detection, global positioning system equipment for vehicle detection in surface applications and the Booyco Controller interface, deployed as a human machine interface for integrating all deployed technologies.
"Booyco Electronics offers mines a complete solution. If one of our offerings isn't fit for purpose, we have a second or a third solution available that will better address mines' specific risks," he concludes.