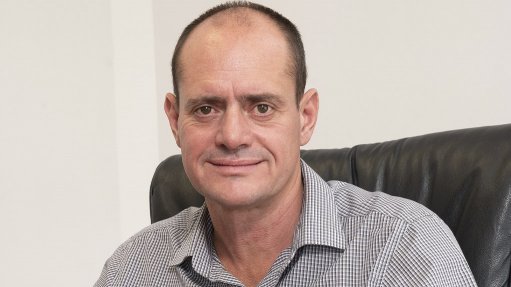 Anton Lourens, CEO of Booyco Electronics.
Putting safe distance between people and the range of mobile equipment on surface mines – from off-road dump trucks to excavators and loaders – Collision Avoidance Systems (CAS) have become integral to mining safety.
Underpinning the success of CAS has been years of intensive research and development, says Booyco Electronics CEO Anton Lourens. This work has actively embraced various new and existing technologies, further raising the reliability and functionality of CAS.
"Pioneering companies like Booyco Electronics – in this game for over 16 years – have taken advantage of developments in satellite positioning systems, for instance," says Lourens. "This has enabled us to achieve greater performance in collision algorithms."
"We have become interested in smart vision systems that allow intelligent perception of people, vehicles, objects and other risks," he says. "Wearable technology also allows us to enhance context and to readily distribute safety information. New technologies have even allowed us to embrace cutting edge fatigue detection solutions."
He explains that Industry 4.0 has brought levels of digitalisation and automation that could not be envisaged until recently. In response, Booyco Electronics has invested vigorously in software-based solutions, paving the way for increased flexibility to customise solutions for specific needs.
"This has meant that our equipment can be improved and customised through its software elements rather than its hardware," he says. "Functionality can therefore be adapted more easily, and can be applied remotely through a wireless connection instead of requiring in-person attention on site."
Rapid developments in sensor and tracking technology were also delivering exciting opportunities to advance CAS capabilities. Integration is really the key to success in these endeavours, he argues.
"We have progressed considerably down the path of combining the power of sensors with information technology," says Lourens. "This allows us to capture extensive data about the respective locations of personnel and machinery through PDS."
Digitalisation gives Booyco Electronics the ability to upload and analyse this data in real time, so that it can inform on-mine decisions and enhance safety strategies. More than this, CAS can now contribute to emerging automated mine ecosystems. As autonomous mining is gradually rolled out in the sector, CAS can be relied upon to support this process with the necessary safety levels.