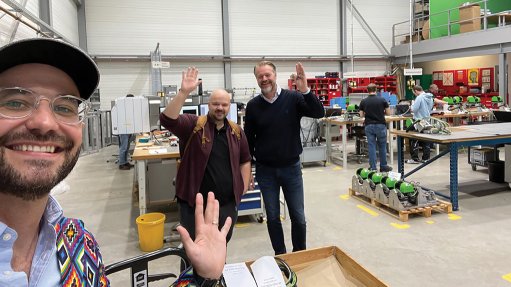 LASE Industrielle Lasertechnik GmbH and Dwyka Mining Services are proud to showcase their revolutionary partnership at Tech*Carnival-23. By combining DWYKA's expertise in mining operations with LASE's cutting-edge laser technology, this partnership is set to transform the way mining operations are managed and monitored.
The essential products of this collaboration are the LaseTVM systems. The LaseTVM-S and LaseTVM-M systems are high-precision 3D laser measuring systems to measure truckload volumes while moving or standing still. The measuring systems are highly versatile and used for measuring the volume of a wide range of materials such as stones, sand, ore or wood products.
The LaseTVM-3D-M is a 3D laser measurement system for accurate and dynamic measurement of truckload volumes during a passage, using two 2D laser scanners and the LASE application software. The system enables dynamic measurement of the load volume without stopping the vehicle and can be combined with RFID, HD camera, and OCR camera for license plate recognition.
The LaseTVM-3D-S is a similar system that measures load volume while stationary, using a 3D laser scanner and the LaseTVM-3D-S application software. The system can be used over surfaces where trucks must stop or on weighing bridges. The 3D laser scanner measures the truckload volume as it enters the measurement area and comes to a stop, and can also be combined with RFID, HD camera, and OCR camera for license plate recognition. The truck is measured once empty and full in both systems to calculate the exact loading volume.
In addition to the LaseTVM-3D-M and LaseTVM-3D-S systems, LASE offer a range of other systems, including the LaseBVC, LaseBVB, LaseBVH, LaseTLO, LaseRCD, LaseWVI, and LaseWVM. These systems are used for volume and profile measurement, automatic belt load measurement and exact mapping of the bunker profile.
You can find out more on www.lase-solutions.com/products/bulk-material