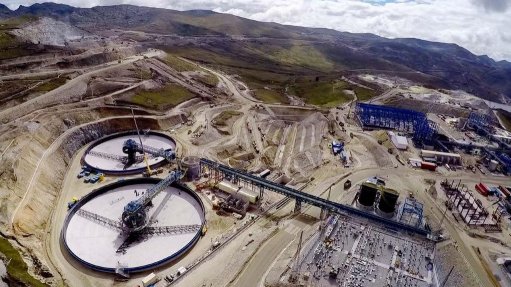 LAS BAMBAS CONCENTRATOR Mine management have transferred responsibilities for the concentrator plant from the construction team to the operations team
The Las Bambas copper mine, in Apurímac, Peru, is still expected to produce between 250 000 t and 300 000 t of copper concentrate in 2016.
The mine, a joint venture between multinational resource company MMG and Hong Kong investment company Guoxin International Investment Corporation, reported a solid March-quarter output as it ramped up, producing 31 470 t of copper concentrate, MMG stated in April.
MMG's Kinsevere copper mine in the Democratic Republic of Congo, and its Sepon mine in Loas, produced 19 680 t and 18 377 t of copper cathode respectively during the March quarter. Including Las Bambas, results, MMG expected to produce between 415 000 t and 477 000 t of copper in 2016.
As of April, Las Bambas was on track to achieve commercial production in the second half of this year.
At full production, Las Bambas was expected to have a yearly nameplate capacity throughput of 51.1-million tonnes and would rank as one of the top copper producing mines in the world.
"In 2015, we essentially completed construction and started the commissioning phase at Las Bambas. Production of first copper concentrate, as part of commissioning activities, was achieved in December 2015," MMG said in its 2015 sustainability report released in May.
MMG CEO Andrew Michelmore said, with Las Bambas construction completed, MMG was focused on the handover of the copper plant from the construction team to the operations team, in addition to the molybdenum plant's commissioning. "We have now transferred the concentrator plant . . . to the operations team and are focusing on the commissioning of the molybdenum plant," he noted in April.
He added that MMG had started shipping Las Bambas concentrate from the newly completed Berth F facilities of Peru's Port of Matarani. The first shipment of 10 000 t of concentrate was made in January and transport of concentrate continued by way of the bimodal logistics system, consisting of truck and rail.
C1 costs are expected to be within the range of $0.80/lb and $0.90/lb once the plant is at steady-state production, positioning Las Bambas within the first quartile of the cost curve.
Over and above the project acquisition costs and prior capital expenditure (capex) of $7-billion, Las Bambas spent $772.4-million between August and December 2014. MMG expects the cost of mechanical completion of the Las Bambas project to be in the range of $1.9-billion and $2.4-billion. Therefore, the project's total capex should range between $9-billion and $10.1-billion.
Additional exploration work at Las Bambas, as at April, was primarily focused on geological and vein mapping between the Ferrobamba and Chalcobamba infrastructure corridor, in addition to conducting a geological review of the Sulfobamba deposit.