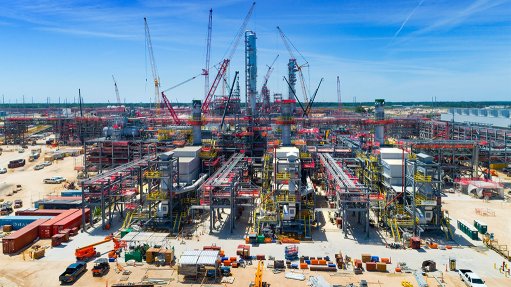 BOILING POINT The Lake Charles boiler facility has produced first steam
Next year will be a defining year for integrated chemicals company Sasol, with the start-up of its Lake Charles Chemicals Project (LCCP), in the US, which is earmarked as a catalyst for transforming Sasol's earnings profile.
In its 2018 annual results, Sasol announced that it had achieved its first major milestone on its LCCP, where its first steam was produced at the new steam cracking plant. Steam cracking is a petrochemical process whereby saturated carbons are broken down into smaller unsaturated hydrocarbons for use in chemical production.
The milestone took place a few weeks before initially planned and the project was at 88% completion as of June this year, including engineering, equipment fabrication and construction of the facility being listed as 68% complete at a capital expenditure of $9.8-billion.
"The project cost is still within the market guidelines of $11.13-billion, and good progress is being made," Sasol joint president and CEO Stephen Cornell stated in the results.
He highlighted that this would be in terms of the geographic spread of the company's earning streams, as well as the contribution split between its chemicals and energy business.
The project remains on track for the first three major production units – the first polymer unit, steam cracker and ethylene oxide unit – to start beneficial operation by the end of December this year. The expected start-up date of the remainder of the manufacturing units remains 2019.
Sasol's marketing and distribution channels have been negotiated for effective product placement. "This, bolstered by global market demand that is poised for long-term growth, enables us to deliver a differentiated product mix through the LCCP," boasted Cornell.
Sasol expects to deliver on its 2019 financial year earnings before interest, taxes, depreciation and amortisation (Ebitda) guidance of $250-million to $300-million, as it targets the LCCP's steady-state Ebitda of $1.3-billion by the 2021 financial year-end.
Once the LCCP is fully operational, Sasol aims to investigate opportunities to bottleneck and further derivatise its operations to improve efficiency and shift the product slate towards higher- margin products. Typically, bottlenecking opportunities require relatively limited capital expenditure while unlocking relatively high returns, as the required infrastructure is already in place.
"Through our sustained focus on factors within our control, we delivered a strong performance, recording steady progress against our value-based strategy," noted Cornell.
Project Specifications
The ethane cracker will produce 1.5-million tons of ethylene a year, and the project includes six downstream chemical units adjacent to Sasol's existing chemical operations.
Site preparation and civil construction started when the project was initially approved, with concrete batch plants constructed and made operational to only supply to the project. Once the initial construction was completed in 2016, mechanical, electrical and instrumentation work began on site, while site work above ground continued to progress. A heavy haul route was also completed.
Sasol and its contractors will use this route regularly to transport large modules and other equipment from a construction dock off the Calcasieu ship canal – a tributary of Lake Charles – to the project site. Sasol worked with the Louisiana Department of Transportation and Development (DOTD), the City of Westlake and 16 Louisiana businesses to widen and strengthen the existing roads on the route, as well as relocate utilities, signage and traffic signals to accommodate the modules and equipment.
To allow for the passage of oversized equipment, Sasol has had to relocate underground and above-ground utilities in coordination with the associated utility companies along the route. Some signs, fencing and other items along the route were also relocated. Thereafter, the team increased the width and weight capacity of the roads. In addition, new, rotating traffic signals were installed at various major intersection to allow for tall modules to pass through.
Moreover, Sasol upgraded the Port of Lake Charles-owned dock facility, located off the main route, where modules and other heavy equipment for the project arrive on a barge. The heavy haul route is about 4 km long from the dock to the Sasol construction site.
Sasol partnered with an experienced transport contractor, and police escorts and crossing guards were employed during equipment and module transports. Local emergency responders and the local community were notified prior to setting of DOTD-approved detour routes during transports.
Sasol has also undertaken a corporate social investment initiative in the area, the Longleaf Legacy project, which entails investing in the Sam Houston Jones State Park restoration project. Sasol will be involved in the restoration efforts, including underbrush removal, selective thinning prescribed fires and planned seedlings.
Personnel Employed
Where possible, Sasol committed to procuring and contracting local experts from the Louisiana community first, which provided considerable value for Sasol's business and helped to strengthen the local economy. A total of $532-million has been spent on materials and suppliers in Louisiana since the beginning of the project.
The project offered more than 5 000 construction jobs at its peak, as well as thousands of jobs indirectly in Louisiana and the US. Additionally, 540 full-time employees have been employed, of which 93% are from local communities.
Louisiana economic development secretary Don Pierson has noted that Sasol is delivering on its commitment to choose local residents first.