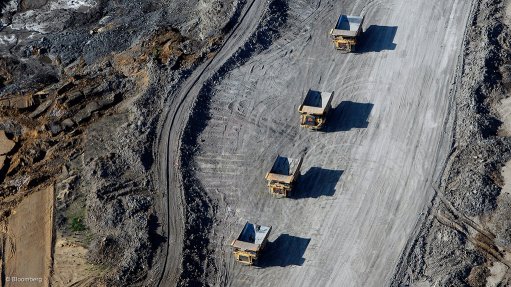 DECLINING SALES As large-scale projects are significantly limited, it is difficult for companies supplying equipment to the mining and construction sectors
Photo by: Bloomberg
The "absolute dearth" of exciting, new mining projects, paired with the concern that South Africa is no longer a favoured destination for new mining projects are some of the greatest challenges facing equipment suppliers, states heavy equipment manufacturer Bell Equipment Sales Africa (Besa) sales and marketing director Terry Gillham.
"As large-scale projects are significantly limited, it is difficult for companies supplying equipment to the mining and construction sectors. Coupled with that, there continues to be a flood of low-cost inferior equipment into the market," he laments.
The mining industry is further affected globally by a decline in world commodity prices – from copper to coal and iron-ore, Gillham states, attributing the decrease in prices to the cooling-off of the Chinese economy and its subsequent reduced commodity demand.
Statistics South Africa noted a mineral sales decrease of 1.1% year-on-year in March, with the largest negative contributions to the decrease by minerals such as iron-ore, coal and other nonmetallic minerals, including manganese ore.
Moreover, South Africa – and Africa to an extent – faces electricity supply issues, the continuous challenge of water and mining licence approvals, and local labour disputes, including disruptive, violent strikes, Gillham emphasises, noting that with the mining industry being under "immense" pressure, he believes this year will be tough for equipment suppliers.
Additional challenges faced by the mining industry include job losses in mining – with figures in the media pointing to between 5 000 and 10 000 jobs lost to date this year, Gillham says, adding that South Africa's gross domestic product growth is forecast to be below 2% this year.
"As a result, mining equipment sales have decreased, with Besa's sales having been affected across the board. Mining represents about 60% of our sales and we've seen a definite tapering off in the industry," he says.
Owner-Operated Mines
Gillham suggests that, while major mining companies have been of the opinion for at least the past ten years, that drilling, blasting, loading and hauling operations were not their core business and, therefore contracted out this work, he believes the commodity price situation has led to a greater consideration of owner- operated mines.
"This is purely as a result of economic factors, where some mining companies see operating their own mine as an opportunity to reduce operation costs," he says, citing a company in the Middelburg area that discontinued contractor services and bought a fleet of Bell B40D articulated dump trucks (ADTs) to assist it in managing its operations.
Bell Equipment ADT product marketing manager Tristan du Pisanie, however, notes that some customers are wary of committing to the significant capital expenditure involved in purchasing large earthmoving machines.
"As a result, Bell Equipment offers a rental solution, generally on a long-term rent-to-own basis, which provides customers more flexibility," he says, noting that this concept has been well received by the mining industry.
Meanwhile, Gillham notes that more customers are requiring on-site repair and maintenance contracts, where the equipment supplier has to provide the technicians and parts, as part of large fleet orders.
"The reason is probably twofold; a skills shortage putting the onus on the supplier to provide the skills, while also providing the customer a guarantee of cost," he suggests.
Du Pisanie further believes that the decrease in commodity prices will see the mining industry placing a greater emphasis on efficiency in their operations, adding that the company's fleet management system, Fleetm@tic, is a tool that the company believes will add significant value to these efficiency drives.
Trucking Innovation
While the downturn in the mining industry has affected the ADT large truck market as a whole, he says that the company has noted some improvement in the small truck market, not driven by mining, but by construction, quarrying and industrial applications.
Nevertheless, Du Pisanie notes that the full upgrade of the company's large truck range to the E# generation is progressing well.
"The upgrade will offer customers better reliability, better fuel consumption and greater payload. This is a large project and we are looking forward to seeing the impact it has on the industry," he says.
Bell Equipment launched the E# generation of its small truck range in 2013 and has since been developing the larger trucks from the B35E to the B50E, that also includes trucks in 40 t and 45 t payload capacities. The company will exhibit a preproduction model of the B50E at its stand at the 2015 international construction machinery, building material machines, mining machines and construction vehicles trade fair Bauma Conexpo Africa, that will be held in Johannesburg, in September.
"This will be in preparation for the product's launch in 2016," Du Pisanie concludes.