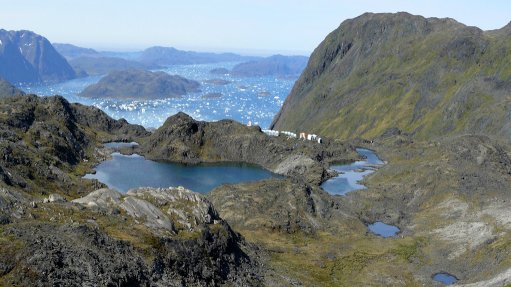 Photo by: Greenland Minerals
Name of the Project
Kvanefjeld rare earths project.

Location
Kvanefjeld, in southern Greenland.

Project Owner/s
ASX-listed Greenland Minerals, a subsidiary of Energy Transition Minerals. Shenghe Resources has acquired a 12.5% interest in the company.

Project Description
The Kvanefjeld project is underpinned by the world's biggest code-compliant rare earths resource.

The outcomes of a feasibility study in 2016 demonstrated the potential of the project to be developed as a large-scale, low-cost producer of rare earths. The feasibility study envisaged the production of 30 000 t/y rare-earth oxide (REO) at a processing rate of three-million tonnes a year.

An optimised feasibility study was completed in May 2019, showing recovery improvements across the light and heavy rare-earth elements.

The increased recoveries will result in the production of 32 000 t/y REO at three-million tonnes a year, adopted in the 2016 feasibility study.

The improved rare-earth recoveries have increased the projected output of commercially important rare earths to 4 260 t/y for neodymium oxide, 1 420 t/y for praseodymium oxide and 270 t/y for dysprosium oxide.

Average by-product output includes 451 t/y of uranium oxide, 6 060 t/y of zinc concentrate and 12 417 t/y of fluorspar. The increase in rare-earth recoveries is primarily owing to the design of a single-leach stage, which results in fewer solid/liquid separation stages. Each separation stage results in minor rare-earth losses. Kvanefjeld is well positioned to be a significant contributor to global rare earths supply for an initial 37-year period, based on a 108-million-tonne ore reserve.

Potential Job Creation
Not stated.

Net Present Value/Internal Rate of Return
The 2016 feasibility study estimated the project's net present value at $1.59-billion, at a 10% discount rate. The internal rate of return is 43.4% with a payback of five years.

Capital Expenditure
The projected capital cost for the Kvanefjeld rare earths project has been reduced by an estimated 40%, from $832-million to $505-million. This reduction resulted from optimisation studies covering all elements of the project, from the flowsheet to civil construction.

Planned Start/End Date
Not stated.

Latest Developments
The Greenland Ministry of Mineral Resources and Justice has made a final decision on the amended exploitation licence application from Energy Transition Minerals over its Kvanefjeld project, refusing the application or an alternative exploitation licence.
Energy Transition Minerals has been battling for an exploitation licence at Kvanefjeld since 2021, when the Greenland government passed an Act banning uranium prospecting, exploration and exploitation, which made the development of the Kvanefjeld rare earth project more costly.
The company was told that the exploitation licence for Kvanefjeld could not be granted because it would involve exploitation of an orebody that contains more than 100 parts per million uranium, which was the threshold that was introduced in Greenland Parliament.
Energy Transition Minerals has said that it is disappointed with the final decision to reject the amended application, and "strongly disagrees" with the government's conclusions.
The company is considering its legal options.

Key Contracts, Suppliers and Consultants
None stated.

Contact Details for Project Information
GMEL, tel +61 8 9382 or fax +61 8 9382 2788.