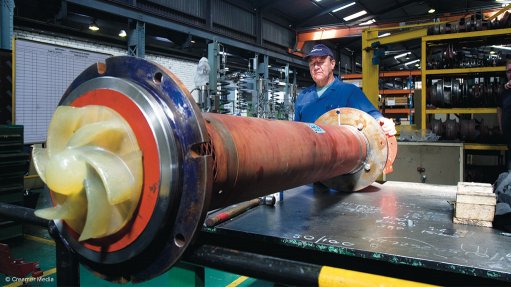 East Rand-headquartered KSB Pumps & Valves is an original-equipment manufacturer of technologically advanced pumps, valves and related products for the water, sewerage, chemicals, petrochemicals, mining and building services sectors, among others.
Since its establishment in 1959, the company has supplied pumps to the African market that are mostly manufactured under licence to its German and US principals. Its operations include full service solutions for fluid transfer applications.
The company's shareholders are KSB Pumps and Compo Physic Trade, with 85% plus one share and 15% plus one share respectively.
KSB Pumps & Valves' manufacturing and sales facilities, in Germiston, east of Johannesburg, occupy a 38 383 m2 site,
36 740 m2 of which is under cover. This is complemented by sales and service centres in Cape Town, Durban, Nelspruit, Port Elizabeth, Secunda, Vereeniging, Richards Bay and Rustenburg.
In Southern Africa, a fully fledged company, KSB Zambia, provides support for the region's mining and agriculture hubs. There are also resident offices in Namibia and Angola. Additional resident offices have been established in Ghana, to cater for West Africa, and in Kenya, to cater for East and Central Africa.
Regional sales manager and spokesperson for the 500-employee company David Jones says: "With a focus on water, KSB Pumps & Valves provides technically advanced pumps and valves to support the region's water utilities and municipalities and ensure that the region's scarce water resources can be pumped to every corner where they are required. The company also maintains a fleet with the largest pump footprint in Africa, with some pumps dating back more than 50 years, in support of the region's water utilities. We also maintain full stockholdings and have the skills to uphold our com