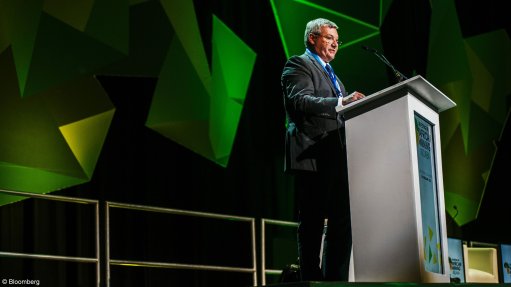 Kinross CEO Paul Rollinson
Canadian gold mining company Kinross on Wednesday announced a share buyback programme and rewarded shareholders with a quarterly dividend of $0.03 a share.
The Toronto-headquartered company, which also reported its second-quarter results, said it had received TSX approval to establish a normal course issuer bid programme, under which it would be able to purchase about 5% of its issued and outstanding common shares over the next year.
"Our excellent free cash flow, as well as the strength of our investment grade balance sheet and growing production profile, underpin today's announcement of a share buyback programme and our continuing quarterly dividend, which supports our commitment to enhance shareholder value," commented CEO Paul Rollinson.
Kinross reported adjusted earnings of $156.5-million, or $0.12 a share, for the second quarter, compared with $194-million, or $0.15 a share, in the comparable period. The decrease is owing to lower gold-equivalent ounces (GEO) sold.
Production decreased from 571 978 GEO in the second quarter of 2020, to 538 091 GEO in 2021, as a result of lower output at the Tasiast mine, in Mauritania, Bald Mountain, in the US, and Kupol, in Russia.
Kinross said that it continued to prioritise the restart of its Tasiast mill, which was halted following a fire on June 15.
The restart costs have been significantly reduced to $35-million, from an earlier estimate of $50-million. The miner reported that the mill was in good working condition and that it had been turned during testing using the gearless motor drive. The mill shell and discharge bearing, which were also key areas in evaluating the time and cost required to re-start the mill, were also in good condition and supported an expected mill re-start in the fourth quarter.
Rollinson stated that Kinross remained on track to meet its previously-lowered production guidance for the year of 2.1-million GEO. The cost guidance for the year has been increased to an all-in sustaining cost of $1 110/GEO, from $1 025/GEO.