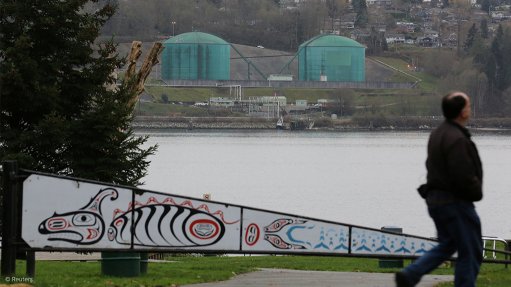 Kinder Morgan's Westridge Terminal, in North Vancouver, is seen accross the Burrard Inlet
Photo by: Reuters
VANCOUVER (miningweekly.com) – Canadian pipeline operator Kinder Morgan reported on Sunday that it is clearing medium crude blend from the Darfield pump station along the existing Trans Mountain pipeline, near Barriere, British Columbia, after oil spilled early on Sunday morning.
Trans Mountain, owned by Kinder Morgan, said in a statement that internal safety systems alerted it to an operational disruption and the station was quickly isolated and, as a precaution, the main Trans Mountain pipeline was also shut down.
An investigation confirmed the release of product from some of the station's piping but it has been contained entirely within Trans Mountain's facility, the company stated.
Following the necessary inspections, the pipeline was restarted at about 15:20 local time on Sunday.
The company said crews remain on site and air monitoring is ongoing, with no concerns outside the pump station at this time.
The timing of the spill is unfortunate, as Kinder Morgan prepares to announce a decision on the future twinning of the existing pipeline this week, amid cacophonous protests in opposition to and support for the controversial project.
SPILL HISTORY
Since 1961, Trans Mountain has reported about 82 spills to the National Energy Board, while some other incidents were below the reportable threshold.
According to Trans Mountain data, 69.5% of its past spills have occurred at pump stations or terminals, which are equipped with monitoring and spill containment systems to provide early detection and lessen impacts and ensure spilled volumes are contained on site. The remaining 30.5% of Trans Mountain's spills have occurred along the pipeline, with 21 incidents related to releases of crude oil from the pipeline. Of these spills, only nine exceeded the reporting threshold of 1.5 m3 – with just three of those nine occurring in the last 35 years.
Since 1956, vessels from Trans Mountain's Westridge Marine Terminal, in Vancouver, have been transporting petroleum products safely through Port Metro Vancouver without a single spill from a tanker.
DECISION WEEK
On April 8, Kinder Morgan Canada CEO Steve Kean announced that the company was discontinuing all nonessential work on the Trans Mountain Expansion Project to increase the capacity of its existing pipeline system – that has operated with few incidents since 1953 – from about 300 000 bbl/d to 890 000 bbl/d, providing much-needed diluted bitumen transportation capacity since the existing infrastructure is operating at capacity.
Kean attributed the decision to discontinue work on the project to "uncertainty created by British Columbia", as a result of what Kinder Morgan characterised as "opposition by the Government of British Columbia" to the project. The company has set a timeline of May 31 when it will decide to pull the plug on or proceed with the pipeline development.
Meanwhile, the federal government is considering its options, and is also expected to make an announcement on its strategic options to see the project through to construction. Prime Minister Justin Trudeau has on several occasions signalled that the previously federally and provincially approved expansion will be built, and government is mulling options ranging from outright buying the project, to putting in place financial backstops that will assist Kinder Morgan in fighting British Columbia's minority government's political interference to stop the project dead in its tracks.