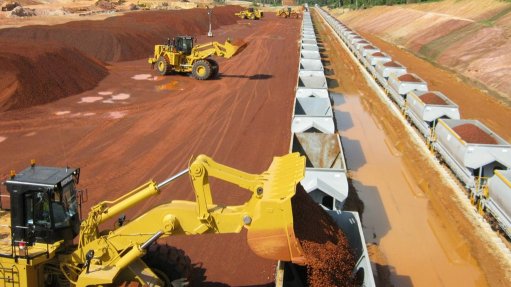 ASIAN DILEMMA Global iron-ore producers need to consider China's long-term demand for iron-ore and the future potential for large Chinese scrap steel stocks
Global iron-ore producers should be cognisant of several key issues preva- lent in the industry, such as establishing what China's long-term demand for new iron-ore supplies will be, what India will do with its current iron-ore reserves and the future of large scrap steel stocks, said banking group Standard Bank London iron-ore head Melinda Moore at the Metal Bulletin Events second African Iron-Ore conference, held in Johannesburg, last month.
She mentioned that China's increasing appetite for iron-ore and India's withdrawal from the global export market have resulted in the "iron-ore seaborne market" being granted "a massive gift", adding that China currently did not possess an alternative scrap supply, as it was still a developing country in terms of infrastructural spend and building works.
"However, since 2002, China has experienced a significant growth in steel consumption and I predict that, by 2017, the country's steel scrap recycling rate will begin to increase substantially," Moore asserted.
She stated that China's considerable future supplies of scrap steel would present a sig- nificant challenge to iron-ore miners and that it was one of the primary reasons why investments in new iron-ore operations were currently extremely difficult to secure.
Moore explained that, countering this, was the fact that India had pulled its 120- million tons of iron-ore reserves from the global export market, adding that only ten- million tons of those reserves would be offered to the global market this financial year.
Mining Weekly reported in September that India's Finance Ministry had decided not to prune the iron-ore export duty from 30% to 20% – a U-turn on its previous stance that dampened sentiments in India's local mining export sector.
Finance Minister Palaniappan Chidambaram said at the time that there was no case for reducing the iron-ore export duty without elaborating further on government's change in stance on the issue.
Earlier in the year, Chidambaram and India Prime Minister Manmohan Singh officially stated that the country needed to revive iron-ore exports to bolster exports overall, thereby increasing foreign exchange earnings and easing pressures arising from the current account deficit.
However, the Indian government was divi- ded on the export duty cut proposal, with the Ministry of Steel and domestic steel producers opposing it, based on sectoral interests, while various other Ministries, such as those of mines, finance and commerce, favoured the move based on macroeconomic considerations.
According to the Mines Ministry, the duty cut would enable the country to make an additional ten-million tons of ore available to international markets from October 2013 to March 2014, even if the current mining ban in the two major iron-ore producing provinces of Karnataka and Goa continued.
Meanwhile, the Federation of Indian Mineral Industries (FIMI), Indian miners and traders are hamstrung in leveraging the weak rupee, since they are unable to plan mine production, owing to uncertainties over duty rates.
Indian iron-ore exports have been falling steadily over the years in the wake of a ban on mining in key provinces.
Indian iron-ore production had fallen from 218.55-million tons in 2009/10 to 167.28-million tons in 2011/12. Exports were down from 117.37-million tons to 61.74- million tons. In the current financial year, iron-ore exports are unlikely to exceed 10-million tons, according to the FIMI.
Moore stressed that the future of Indian iron-ore exports was the key issue for all iron-ore players, as iron-ore prices would continue to rise, or at least remain steady, if India's absence from the global iron-ore export market continues.
"However, if India returns to the global market, then we predict that iron-ore prices will drop by $10 to $20 a ton and, if the country decided to resume exports, the excess supply of iron-ore on the market could potentially wipe out many of the junior iron-ore operators," she predicted.