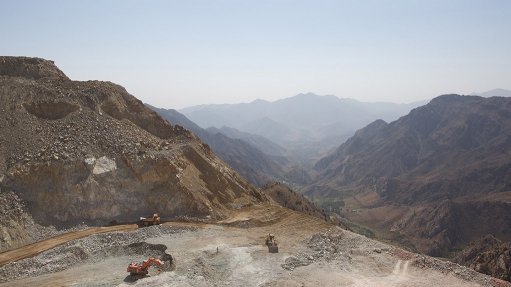 Kaz Minerals' Bozymchak mine
JOHANNESBURG (miningweekly.com) – Copper-focused mining company Kaz Minerals' copper production increased by 3% to 67 300 t in the first quarter of 2018, compared with 65 200 t in the fourth quarter of 2017.
The increase is attributed to higher output at the company's Bozshakol and Aktogay sulphide operations in Kazakhstan.
The Bozshakol copper mine delivered a 20% increase in copper production to 26 900 t, compared with 22 500 t produced in the preceding quarter, which was a result of a 10% growth in ore throughput and improved copper recovery.
Gold output at this operation increased by 29% to 36 000 oz, compared with fourth quarter production of 27 900 oz, owing to higher gold grade and improved recovery rate.
The Aktogay openpit mine's copper production from sulphide ore increased by 9% to 21 100 t, compared with 19 300 t in the fourth quarter, benefiting from higher copper grade of 0.62% and a recovery rate of 88%.
The mine also delivered cathode production from oxide ore that was seasonally lower at 5 300 t, compared with 6 700 t in the fourth quarter 2017.
Kaz's East Region and Bozymchak (in Kyrgyzstan) operations jointly produced 14 000 t of copper, which is 16% lower compared with the fourth quarter 16 700 t, owing to planned idling of the Nikolayevsky concentrator. However, these operations maintain the full year guidance of about 65 000 t.
CEO Andrew Southam said on Thursday that the company was on track to achieve its guidance across all metals for the full year, targeting 270 000 t to 300 000 t of copper production and 160 000 oz to 175 000 oz of gold.
"Kaz is delivering production growth into a balanced market and the medium-term outlook for copper prices remains strong."