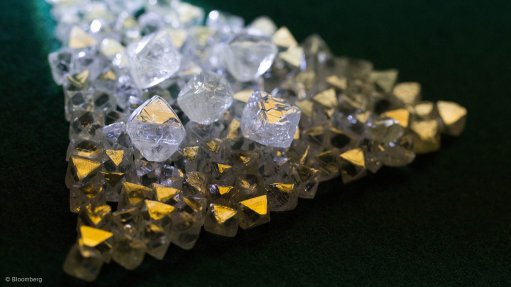 JOHANNESBURG (miningweekly.com) – Prospector Karelian Diamond Resources has been granted a claim reservation in the Kaavi region of Finland, which the Aim- and ESM-listed company is hoping could lead to the discovery of a new kimberlite in the area.
The 8.67 km2 claim reservation is for the area surrounding its Lahtojoki mining concession and covers the up-ice area of the kimberlite boulder discovery announced late last year.
Karelian in November said it had discovered a kimberlite boulder about 2.5 km south-west of the Lahtojoki deposit. A further six kimberlite boulders were found 500 m from the first discovery.
At the time, the explorer said that known ice-flow direction suggested that the boulders could not have been derived from the Lahtojoki diamond deposit, suggesting that it might be from a different kimberlite. The Geological Survey of Finland (GTK) has carried out further exploration on Karelian's behalf to locate the bedrock source.
"Petrographic and mineral chemistry studies undertaken by GTK show clearly that the boulder is not derived from the Lahtojoki diamondiferous kimberlite pipe, but derived from an as yet undiscovered kimberlite in the area," Karelian said in a statement on Wednesday.
A claim reservation gives exclusive rights to apply for exploration claims within the reservation area.
Karelian expects the prospect of a new additional undiscovered kimberlite in the vicinity of the Lahtojoki mining permit to significantly increase the attractiveness of the Lahtojoki deposit, which has the potential to be the first diamond mine in Europe, outside Russia.
Karelian's diamond projects in Finland are based on the diamond prospectivity of the Karelian Craton, which is comparable in size to the diamond-rich Slave Lake Craton in Canada. The Karelian Craton stretches across north-eastern Russia and northern Finland. The Lomonosov and Grib Pipe diamond deposits have been discovered in the Russian section of the craton and Russian diamond giant Alrosa has indicated that the region presents strong growth possibilities.