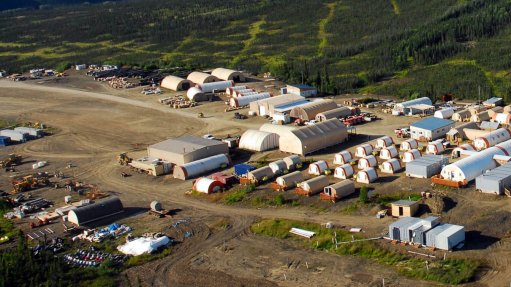 The Donlin camp, in Alaska.
Explorer and developer Novagold, which is suing short-selling firm J Capital Research (JCAP) for defamation, has responded to US law firm Hagens Berman, which is investigating whether the company has misled investors about the viability of its Donlin gold project, in Alaska.
Hagens Berman said this week it was probing possible securities fraud and that it believed certain investors might have valuable claims.
But Novagold responded with a detailed statement to the class-action law firm, stating that it was a "misconceived effort" to solicit clients and to continue the spread of "malicious and false information", following the attack by short-seller JCAP on the company and its Donlin project.
Chairperson Thomas Kaplan also weighed in, saying that the solicitation of shareholders based on a "fundamentally flawed report", was "par for the course in this dirty game".
"Even with Novagold's line-by-line factual rebuttal available to them, the law firm did nothing more than repeat a slapdash mixture of errors of fact, falsehoods, and discredited assertions," he said in a July 9 statement.
Kaplan also questioned the timing of the solicitation, which came the day after Novagold's announcement of the filing of its lawsuit for defamation against JCAP in connection with its "short and distort" scheme.
Although Novagold would not be issuing responses to "every dart aimed at it", he said the company highlighted Hagens Berman's press release, because it was "emblematic of the amateurishness and abject ignorance of the public statements made recently about Novagold by JCAP and now repeated by others".
"To the extent that any of our shareholders believe they have been damaged, I encourage them to seek advice about whether any redress is available to them from the real perpetrator of wrongs: JCAP. Those who are interested should examine Novagold's rebuttal to JCAP's tapestry of deceit to understand the truth behind the falsehoods. I am quite sure that any thoughtful examination will conclude that, contrary to Hagens Berman's narrative, JCAP is the one peddling the falsehoods and misrepresentations.
"I also suggest that the investing public refresh their understanding of the investment case for Novagold, for Donlin really is unique in its combination of attributes. There is a reason why Novagold – a pure play on what we believe to be the best development-stage asset in gold – so outperformed the averages such that we were clearly causing pain to short sellers."
Kaplan said that it was straightforward – Donlin was a "category killer", which would be one of the only big mines that would be built during the next bull market in gold.
"We are confident that informed investors will see the absurdity of JCAP's so-called analysts whose experience in the sector is so ridiculous when compared to that of Novagold's management and investor base. To our knowledge, JCAP has no known experience in mining, other than two past recommendations: namely, a short on Fortescue Metals Group, which subsequently nearly trebled in value, and a bullish stance on Mongolian Mining Corporation. That stock has since fallen 99% in value.
"Ultimately, investors should not be fooled by JCAP and see this exercise for what it is: a scam, a heist if you will, that now represents an opportunity to new investors at the expense of the existing ones."