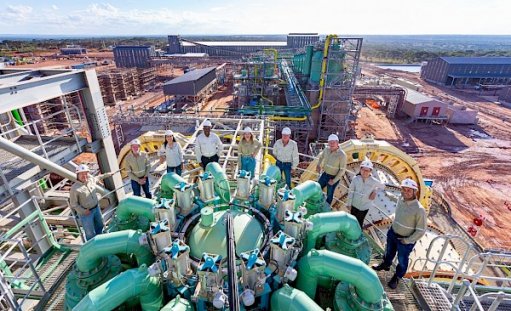 Members of Ivanhoe's and Kamoa-Kakula's multinational senior management teams at Kakula's Phase 1 concentrator's pneumatic control valves.
The target date for first copper concentrate production from Canadian miner Ivanhoe Mines' Kamoa-Kakula copper mine, in the Democratic Republic of Congo (DRC), has been brought forward by several months and is now expected by the end of May or early June.
The start of production at Kakula will mark the beginning of a "multi-generation copper mining district, consisting of numerous high-grade mines", says cochair Robert Friedland.
"We are proud of the entire Kamoa-Kakula team for their remarkable dedication and accomplishments to deliver our Phase 1 production ahead of schedule and on budget, despite the challenges presented by the Covid-19 pandemic."
First ore is expected to be added to the mill by the end of May, with lower grades to be fed into the plant during the hot commissioning phase before the head grade is increased.
The project has also reached its three-million-tonne preproduction stockpile target of high-grade and medium-grade ore at an estimated blended average of 4.74% copper.
Contained copper in the stockpiles increased by about 23 000 t in April – to a cumulative total of more than 140 000 t.
"The stockpile is likely to grow further as our monthly mining rate currently exceeds the Phase 1 milling rate, and only should be drawn down once the Phase 2 concentrator begins operation in mid-2022," says Kamoa CEO Mark Farren.
Meanwhile, Kamoa-Kakula set another monthly mine development record in April, with an advancement of more than 3 625 m, bringing the total underground development to about 42.2 km – more than 15 km ahead of schedule.
Kakula is projected to be the world's highest-grade major copper mine, with an initial mining rate of 3.8-million tonnes a year at an estimated early average feed grade of more than 6.0% copper, ramping up to 7.6-million tonnes a year in the third quarter of 2022.
Phase 1 is expected to produce about 200 000 t/y of copper, and Phases 1 and 2 combined are forecast to produce about 400 000 t/y of copper.
The project's phased expansion scenario to 19-million tonnes a year would position Kamoa-Kakula as the world's second-largest copper mining complex, with peak yearly copper production of more than 800 000 t.