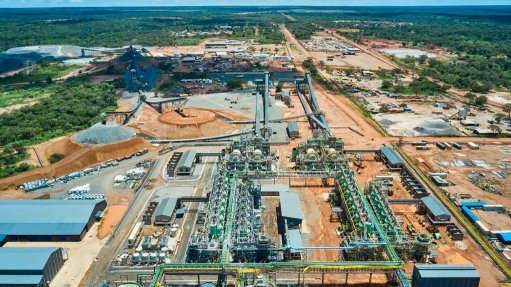 Kamoa Kakula's Phase 2 concentrator plant
TSX-listed Ivanhoe Mines reports that the 3.8-million-tonne-a-year Phase 2 concentrator plant at its 39.6%-owned Kamoa-Kakula project in the Democratic Republic of Congo is expected to be 93% complete by January 31, with hot commissioning of the concentrator on track to start in April.
Ivanhoe co-chairpersons Robert Friedland and Yufeng "Miles" Sun note that this schedule is at the front end of its previous guidance of the second quarter, as well as several months ahead of the original schedule.
Hot commissioning involves introducing first ore into the plant at a reduced feed rate to set equipment parameters and test performance, with the feed rate being subsequently steadily increased.
The first copper concentrate produced from the Phase 2 plant is expected about one week after ore is fed into the ball mills.
The Phase 2 plant is identical to the 3.8-million-tonne-a-year Phase 1 concentrator plant and, as such, a faster ramp-up profile is expected, with the added benefit of operational knowledge gained during the commissioning of Phase 1.
Ivanhoe reports that the Phase 1 concentrator reached monthly design throughput during September 2021, which was the fourth full month of operation. First ore was introduced into Kamoa Copper's Phase 1 concentrator plant on May 20, 2021, and first concentrate was produced from the Phase 1 plant on May 25.
The Phase 1 concentrator is currently running at a throughput in excess of its design capacity by more than 15%, with 117% of design throughput achieved in December.
Copper recoveries also are being achieved that are in excess of design recovery of 86%, depending on feed grade, with December's recoveries about 2% higher.
Going forward, a dedicated project team has been appointed to de-bottleneck both the Phase 1 and Phase 2 concentrators after the latter's commissioning, with targeted improvements aimed at increasing plant throughput from the design of 7.6-million tonnes a year, to nine-million tonnes a year – producing up to 450 000 t/y of copper in concentrate from the first two plants once steady-state is achieved.
Meanwhile, production guidance for the Kamoa-Kakula copper complex this year is between 290 000 t and 340 000 t of copper in concentrate.
"Kamoa-Kakula represents only the beginning of our undertaking to unlock the potential of this remarkable new copper province, which has the unique combination of outstanding scale, grade, mine life, and environmental, social, and governance credentials," says Friedland.
MARK FARREN RETIREMENT
Along with the commissioning of the Phase 2 expansion, Kamoa Copper CEO Mark Farren has announced his retirement.
Ivanhoe has started the process of identifying his successor.
Farren first joined Ivanhoe in June 2014 as operations executive VP, before his appointment as Kamoa Copper CEO in October 2019 – a position in which he oversaw the construction, commissioning and operation of the Phase 1 mine and concentrator at Kamoa-Kakula, as well as the project's Phase 2 and 3 expansions.
"[Farren] has accomplished a great deal during his time with Ivanhoe and Kamoa Copper, including delivering the Phase 1 project on budget and ahead of schedule in an unprecedented macroeconomic environment.
"Under his watch, the Phase 1 ramp-up was exceptionally smooth, and the Phase 2 expansion project is running ahead of schedule. Before he leaves, he will have successfully overseen the development of the Kamoa-Kakula complex into one of the ten largest copper producers on the planet," says Friedland.
Sun adds that Kamoa-Kakula is an "industry benchmark" because of Farren's leadership, especially considering the challenges posed by the Covid-19 pandemic. "I salute [Farren's] significant contributions and wish him continuous success."
Zijin Mining chairperson Jinghe Chen says Zijin Mining, which also holds a 39.6% interest in Kamoa-Kakula, "sincerely appreciates" Farren's diligent work and his "magnificent" achievements in transforming the operation into a significant copper producer.
Kamoa Copper chairperson Ben Munanga says Kamoa Copper's success to date is a product of the culture and values promoted throughout the organisation under Farren's guidance. "[Farren] has been instrumental in developing strong managerial talent at Kamoa Copper, and we are confident that his legacy will continue for many years to come."
"I have had a long-term goal to retire while I am healthy and able to pursue my hobbies and new adventures . . . I am incredibly proud of playing a part in Kamoa-Kakula's success, and I am convinced that the best is still to come. I will continue to work with my successor and the rest of the team to ensure the smooth commissioning of the Phase 2 expansion," comments Farren.
Meanwhile, Ivanhoe reports that the Phase 3 expansion of Kamoa-Kakula, which is expected to be commissioned in the fourth quarter of 2024 is also advancing, with work ongoing on a new boxcut to access the Kamoa mine.
In this regard, an updated prefeasibility study, including the Phase 3 expansion, is expected in the third quarter of this year.