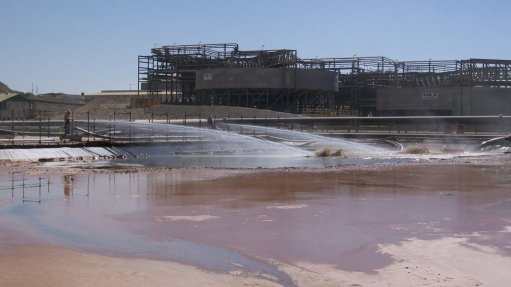 CAUSE AND EFFECT Acid ponds and dams that have become silted have serious repercussions for a mining operation
Industrial pumps rental service provider Integrated Pump Rental, in a joint venture (JV) with supplier and service provider of equipment to mining and allied industries EC Mining, has secured a contract to desilt four acid ponds at a copper mine in the Democratic Republic of Congo (DRC).
This project follows on the back of the successful completion of the cleaning up of two similar dams by the company at the same mine.
Integrated Pump Rental MD Lee Vine says acid ponds and dams that have become silted have serious repercussions for a mining operation.
"It is critical that mining operations have sufficient storage capacity for solution and water. When reservoirs are neglected and sediment is allowed to build up, the downstream and upstream processes are affected," Vine says. This can have huge implications for the productivity of an operation.
He points out that there has been a marked increase in the demand for the company's Slurry Blaster hydro mining equipment, noting that this equipment has been locally developed to operate in the harshest environment. Further, he informs that this equipment has proved itself in the field and that even the most challenging applications have not been an issue.
"We are cognisant that not all desilting and cleaning applications are the same and, for this reason, Integrated Pump Rental customises equipment to ensure an optimum outcome. Typically, the Slurry Blaster is site trailer mounted for this type of task; however, it can be pontoon mounted if required," Vine says.
Each installation of the Slurry Blaster comes standard with a 37 kW feed pump with float, a 22 kW slurry pump for the removal of the slurry, a 200 m heavy-duty layflat hose and an electric control panel. In applications where harsh abrasion is found, stainless steel components, including pumps, are used to facilitate the best reliability and performance.
The Slurry Blaster units are available for medium- or long-term rental, outright purchase and on a full turnkey project basis.
Focused on a total desilting turnkey solution, Integrated Pump Rental's service level agreement includes the provision of a full maintenance service. This entails regular inspections of pumps before and during the contract to ensure reliable operation with peak uptime.
"By contracting a solutions provider such as us, mines can concentrate on their own business," Vine concludes.
Meanwhile, in February, industrial pumps distributor Integrated Pump Technology, for of which Integrated Pump Rental is the leasing company, reported that it supplied 20 Bravo 900 submersible slurry pumps and 20 M20 control panels to mining company Katanga Mining subsidiary Kamoto Copper Company, in the DRC.
These heavy-duty electrical submersible slurry pumps are the largest of their kind in the Grindex product family, says Integrated Pump Technology sales and marketing GM Klint Bawden.
Integrated Pump Technology export sales manager Chris Heunes explains that the company's products are being deployed at three different areas of Katanga Mining's operations in the DRC – the Luilu metallurgical plant, the Kamoto concentrator and the KOV openpit mine. "Our Bravo range has proved particularly successful for Katanga Mining, which has been using Grindex products for three years now and has about 300 pumps in operation."
Heunes says EC Mining has been formally appointed as the distributor for Integrated Pump Technology in the DRC and is in the process of establishing a fully fledged service and repair workshop at Kamoto Copper Company to cater for its aftermarket needs.
"Pumping slurry is one of the most demanding applications for any pump, owing to such issues as sediment build- up leading to costly downtime and repair costs.
"The Bravo range from Grindex is robust and hard working enough to result in reduced operating and maintenance costs," Bawden elaborates.
These pumps, with a maximum submersible depth of 20 m, do not require any support superstructure, which makes for quick and easy installation, and less space is needed for their operation.
The cartridge seal is preassembled for quicker and easier mounting, while the Grindex Hard-iron impeller and pump housing feature high wear resistance, which is critical in slurry applications. The large throughlet means that the pump can handle solids of varying sizes. A leakage sensor allows for early detection of any problems, while the single adjustment screw makes it easy to tweak the impeller for optimal performance. The agitator has been designed specifically for coarser slurries and is able to stir up and pump sand, sludge and solids in suspension.
Integrated Pump Technology is the sole importer and principal distributor for the Grindex range of dewatering, slurry and sludge pumps for Southern Africa. "A network of 16 strategically located, specialised pump distributors supported by dedicated account managers ensure effective service and customer support," says the company.
Headquartered in Johannesburg, a newly built 1 200 m2 service facility supports this distribution structure in terms of sales, repairs and rental offerings. The facility encompasses an automated pump test facility and boasts a "highly experienced" service team. Grindex submersible pumps have been available in South Africa for 25 years.