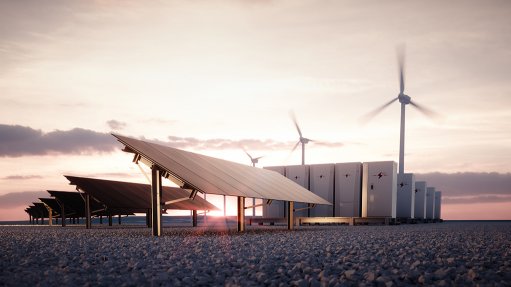 New frontiers of renewable energy, green hydrogen and electric vehicles have potential to grow the economy significantly.
JOHANNESBURG (miningweekly.com) – Through the Just Energy Transition Investment Plan, R1.5-trillion could be invested in South Africa over the next five years in new frontiers of renewable energy, green hydrogen and electric vehicles, says law firm Cliffe Dekker Hofmeyr (CDH).
Moreover, with the National State of Disaster being declared amid crippling power cuts, South Africa's hydrogen valley project is being viewed as a potential beacon of light in the transition to a low-carbon, sustainable economy, CDH states.
In addition to the hydrogen valley initiative spanning Limpopo, Gauteng and KwaZulu-Natal, other green hydrogen projects, as reiterated by President Cyril Ramaphosa in his State of the Nation Address on Thursday, include Sasol's Boegoebaai project in the Northern Cape, and the Prieska Power Reserve project.
Meanwhile, Mining Weekly can report that hydrogen valleys are gaining momentum globally, with the European Commission, for example, using them to create interconnected energy ecosystems across Europe.
South Africa's Department of Science and Innovation describes hydrogen as a key priority for South Africa and draws attention to the hydrogen hubs partnership it has with mining company Anglo American, Bambili Energy and Engie, which is earmarked to contribute to the launch of the hydrogen economy, in which fuel stations and hydrogen fuel cell vehicles are key parts.
China currently has the greatest number of hydrogen fuel stations. As of April 2022, there were 250 operational hydrogen fuel stations in the country. This was followed by Japan with 161 such stations.
On the oil transition front, UK petroleum company BP states in its latest annual report that it has a goal to produce 500 000 t to 700 000 t of mainly green hydrogen a year by 2030, and the European Union has unveiled millions of euros of funding to help establish a network of schools, universities, and educational institutions to help train up 180 000 workers, technicians, and engineers in the hydrogen sector by 2030.
Goldman Sachs' analyst team predicts hydrogen to be a $1-trillion market by 2050, and calculates that $5-trillion will need to be invested in the hydrogen supply chain to get to net zero by that date.
This all comes amid hydrogen being the universe's most abundant element and with the most powerful use for hydrogen by 2050 expected to be in mobility, according to McKinsey & Company.
Meanwhile, South Africa's North-West University (NWU) is investing some R35-million in strategic funding to advance green hydrogen research over the next five years, following the announcement that Hydrogen South Africa Infrastructure Centre of Competence at NWU is collaborating with Japanese partners on a five-year green hydrogen and green ammonia programme.
CDH's Jackwell Feris states in a media release to Mining Weekly that while movement to green frontiers may not necessarily provide direct support or alleviate the loadshedding crisis, it may do so indirectly, with any excess renewable energy produced for hydrogen production, if available, being potentially diverted to deal with energy poverty or the energy crisis in South Africa.
At its core, Feris sees the hydrogen valley project in South Africa as having the potential to boost the South African economy significantly.
A feasibility study conducted independently showed that the project could add anywhere between $4-billion and R9-billion to South Africa's gross domestic product (GDP), a GDP increase that would create long-term, sustainable economic growth by creating new jobs and opportunities in the clean energy sector.
"As we transition into 2023, we know there will be a need to provide more insights on the various legal and regulatory nuances relevant to a rapidly evolving industry," adds Feris.
HYDROGEN VALLEYS IN EUROPE
In the European Union, the Clean Hydrogen Partnership selected nine hydrogen valley projects following its first call for proposals last year. The total funding requested for the nine totals €105.4-million.
These project developers will now start negotiations for their grant agreements, which are expected to be concluded before mid-year. The projects focus on the production of clean hydrogen and address a variety of applications in the energy, transport, and industry sectors. It is expected that the projects will be able to mobilise investments of at least five times the funding provided or above €0.5-billion, Hydrogen & Central reports.
The European Commission has allocated to the Clean Hydrogen Partnership an additional €200-million through REPowerEU to double the number of hydrogen valleys in Europe by 2025. REPowerEU is a European Commission proposal to end reliance on regionally imported fossil fuels before 2030.
Clean Hydrogen Partnership executive director Bart Biebuyck says that the decision to provide funding for nine hydrogen valleys shows the commitment of the European Union to accelerate the implementation of hydrogen technologies in line with the ambitious goals of the Green Deal and REPowerEU.
These projects will, Biebuyck adds, benefit regions, local authorities, industry, and Europe's citizens who need a new, greener, smarter economy.