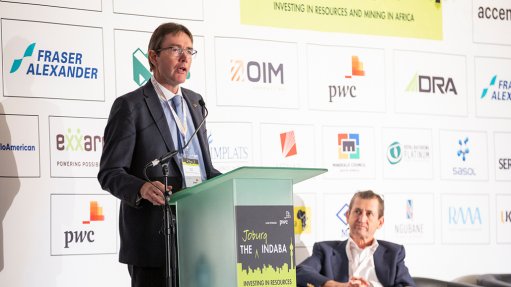 ROGER BAXTER Just one of many industry giants addressing the Junior Indaba next month
This year's Junior Indaba event – aimed at explorers, developers and investors in the African junior mining sector – will feature a panel discussion on efforts to create a junior mining environment that is conducive to attracting prospectors, developers and investors.
The conference, to be held at the Country Club Johannesburg in Auckland Park, Gauteng, on June 6 and 7 will be held in a hybrid manner, with attendance both in-person or through a streaming process.
Presenters and moderators will debate the current climate and outlook for the junior mining sector in South Africa and beyond, with the event also offering networking and branding opportunities for speakers, partners and sponsors.
Event organiser Resources4Africa says the event this year will be opened by industry stalwart and veteran Junior Indaba presenter Bernard Swanepoel.
The opening speech will be followed by another legendary figure in the mining sector Minerals Council South Africa CEO Roger Baxter, whose opening keynote address will unpack what it will take for junior mining in South Africa to succeed, and especially how government and industry can work together to achieve this.
This year's panel of speakers will include about 25 CEOs and MDs of midtier and junior mining companies, government representatives, industry experts and professional advisers who will address crucial issues.
The organiser adds that there will be two panel discussions which will address questions posed by the sector.
The first panel discussion, led by Department of Mineral Resources and Energy (DMRE) director-general Jacob Mbele, will address the topic 'What is needed to create a conducive policy and regulatory framework for junior miners in South Africa?'.
In part, the discussion will outline what is problematic and restrictive about the current regulatory framework for juniors in South Africa, and to what extent these issues are being addressed.
The discussion will also look at steps taken regarding reducing delays and clearing the backlog in the granting of mining and prospecting rights.
Further points include what can be done to increase transparency in the application and licencing process.
Importantly, the progress being made by the DMRE's initiatives to promote junior mining and exploration – the cadastre system and Exploration Implementation Plan 2022 – will be explored.
Mbele will also expand on how government can work together with industry to promote junior mining and exploration in South Africa and encourage foreign direct investment, as well as what lessons can be learned from the regulatory environment junior miners encounter in Australia and Canada.
Another panel discussion will be held on the second day of the Junior Indaba, which will discuss the commodities outlook for 2023 and beyond.
This will be led by both global analysts and consultancy Wood Mackenzie, small and medium-sized enterprises metals and mining research markets VP Robin Griffin and CRU+ head Willis Thomas.
Questions being asked in this panel will include how commodity prices are faring in 2023 compared with 2022, and how macroeconomic factors – such as the Russia-Ukraine crisis, rising inflation, weaker Chinese demand and global economic slowdown – are influencing prices.
The question of which commodities are doing better than others, and why, will also be explored.
Further, discussions will also be held on the critical minerals required for current and future green technologies, including fuel cells, renewable energy and storage products, as well as those used in the manufacture of electric vehicles.
The drive towards critical minerals will also be answering the question: 'To what extent is the hype about critical metals realistic?'.
An interesting addition to this year's panel discussions, under the name 'Mythbusting', will involve a look at some of the prevailing industry myths being argued for – and against – by respected industry figures, which promises to be both insightful and controversial.
Topics include the notion that there's no future for junior mining in South Africa, based on the activity being too difficult and not financially viable, and that junior mining in Africa should be left to the majors of China, Australia and Canada.
On a positive note, the topic of government's Exploration Implementation Plan 2022, which is intended to kick-start the recovery of the South African junior mining industry, will be discussed.
Further, speakers will also unpack the theory that listing on the JSE is the simplest and easiest way to raise money for a junior.
The organiser concludes that there will also be two sessions showcasing African junior mining success stories.