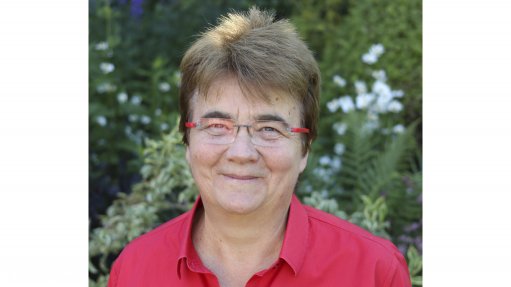 Jubilee Metals new independent nonexecutive director and safety and sustainability committee chairperson Tracey Kerr
Aim- and AltX-listed diversified metals processing company Jubilee Metals Group has appointed Tracey Kerr independent nonexecutive director with immediate effect.
Based in the UK, she is currently a nonexecutive director of Hochschild Mining, a FTSE 250 precious metal mining company with mines and development projects in the Americas.
At Hochschild, Kerr is sustainability committee chairperson and a member of the remuneration and nomination committees, in addition to participating in Hochschild's exploration working group and being the designated director for employee engagement.
Until recently, she also served as a nonexecutive director of Polymetal International, a previous constituent of the FTSE 100, where Kerr also chaired the safety and sustainability committee and was a member of the audit and risk committee.
Her most recently held position was Anglo American group sustainable development head, from September 2020 to April 2021. Before that, she had also been accountable for safety, operational risk management and sustainable development across the Anglo American group from January 2016 to August 2020.
Kerr, a geologist, has overseen global exploration programmes at a number of large multinational corporates including Anglo American, where she was group exploration head across that miner's exploration activities in 15 countries.
Prior to this, she oversaw exploration activities in the Americas for Vale, which was engaged in metals and mining and one of the largest logistics operators in Brazil.
Kerr is also a fellow of the Australasian Institute of Mining and Metallurgy and is a member of the Society of Economic Geologists, the Society of Exploration Geophysicists and the Institute of Directors.
SAFETY AND SUSTAINABILITY COMMITTEE
With Kerr's experience in sustainable development and safety, Jubilee – with projects in South Africa and Zambia – plans to introduce a new safety and sustainability committee that will be chaired by her, while CEO Leon Coetzer and technical director Dr Evan Kirby will serve as members.
The committee will have oversight of the management of safety and sustainability matters, including the relevant systems and processes, focussing on those it considers to be most potentially material from time to time.
These include strategies designed to manage factors of safety, health, the environment, tailings facility management, social and community impact management and socioeconomic development, sociopolitical issues and the supply chain.
The committee's mandate is to monitor Jubilee's overall approach to sustainability. Specifically, the committee's role is intended to promote ethical, transparent and responsible behaviour by Jubilee with meaningful engagement with its stakeholders and communities.
On issues and matters pertaining to governance, social impact, strategy and disclosure, the committee will take a coordinated approach with the audit and risk committee.
Coetzer says he looks forward to working closely with Kerr as Jubilee continues to build on its recent period of operational and financial growth as the roll-out of its global metals processing strategy continues.
"Tracey's background in sustainability, safety and geology will be of enormous value to Jubilee as we continue our journey and further implement our sustainability initiatives."
Meanwhile, nonexecutive chairperson Ollie Oliveira – who was appointed in May – has also been appointed as member of the audit and risk committee, chaired by independent nonexecutive director Nicholas Taylor, while non-executive director Chris Molefe is also a member.
Going forward, the remuneration committee will be chaired by nonexecutive director Dr Mathews Phosa, with Molefe and Taylor as members.