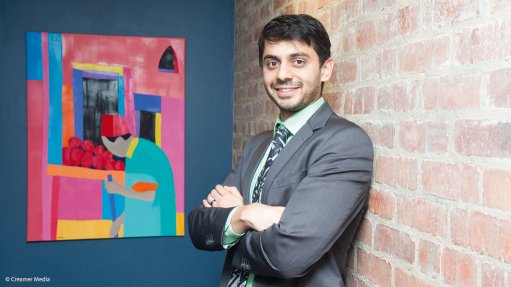 JSS executive director Gaurav Nair
Photo by: Duane Daws
JOHANNESBURG (miningweekly.com) – JSS Empowerment Mining Fund, a new empowerment fund aimed at filling a junior-mining niche funding gap, is targeting a capital raise of R1-billion in two windows this year to fund junior opencast miners to get over the start-up hump and reach profitable operations.
The Section 12 J company (in terms of the Income Tax Act), a partnership between boutique corporate finance firm Jaltech and construction, mining and processing group Stefanutti Stocks, set to be launched in February, plans to offer an attractive investment opportunity through extensive hands-on risk mitigation and tax benefits, while offering junior mining companies a helping hand in funding and technical expertise.
Junior mining companies were often considered too small for traditional private equity and banking finance and many still presented considerable risk that left potential investors nervous, JSS executive director Gaurav Nair said on Friday.
JSS plans to fill this void by providing investments of between R30-million and R500-million, along with operational expertise, to qualifying South African junior mining companies with projects at the bankable feasibility study (BFS) stage.
The fund considers projects where a BFS has been completed and the due diligence has been undertaken, including a confirmed resource, the completion of the necessary exploration activities and the securing of permitting and licences.
Eight prospective projects have already been identified for possible aggregate funding of R703-million and will undergo evaluation by the fund's investment committee as soon as the minimum capital of R500-million required by the fund has been raised.
Five junior coal miners – three at advanced project stages, one still in its initial phase and one at the starting phase of its project – formed part of the pipeline, with investment opportunities ranging from R40-million to R120-million. One intermediate stage and one initial stage anthracite project had also been identified for possible investment of R30-million and R185-million respectively.
One of the identified intermediate-stage projects is in the gold sector, requiring potential funding of R45-million.
Stefanutti will provide blue-chip levels of contract mining services for the selected applicants on a market-related first right of refusal basis, with infrastructure, plant construction and mining production levels guaranteed – reducing the operating and financial risks.
"By contracting the mining to Stefanutti Stocks, the fund drastically reduces the operational risk of its investments through performance guarantees on construction and mining volumes.
"The fund's partners and technical team have a comprehensive range of skills which reduce investment risk while maximising returns," Nair explained.
Once the projects are profitable, JSS plans to exit and reinvest the funds in another project.
JSS is targeting pre-tax returns in excess of consumer-price-index-plus-10% a year on the gross investment.
Investment in JSS qualifies for a 100% deduction from taxable income in the year in which the investment is made - investments in the JSS Empowerment Mining Fund need to be held for at least five years to retain the tax benefit received.
Seventy percent of the one-off spend qualifies towards the broad-based black economic empowerment scorecard every year. Investment into the fund counts towards enterprise development and supplier development spend - six of the eight potential projects to be reviewed qualify.
JSS will close its first raising window on February 28, to allow the issue of tax certificates to investors who will be claiming back the investment as a deduction from their taxable income this year and the second window on August 31.
JSS, which will be launched in Johannesburg on February 2 and in Cape Town on February 8, and is jointly managed by Jaltech, Stefanutti and Venture Capital Management Services, also signed on as sponsor of the new Junior Miners Pavilion and the Investment Battlefield Competition at the 2017 Investing in African Mining Indaba.
The competition provides a platform for 16 junior miners to compete and showcase their projects to a judging panel of investors for a chance to win prizes supporting the development of new projects.