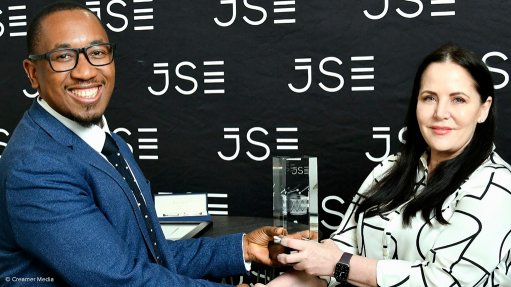 JSE Origination and Deals Head Samuel Mokorosi and Copper 360 chairperson Shirley Hayes at last month's Copper 360 listing.
Photo by: Creamer Media Chief Photographer Donna Slater
JOHANNESBURG (miningweekly.com) – South Africa's Johannesburg Stock Exchange (JSE) is going all out to attract junior mining and exploration companies, making it easier for companies to get on to the exchange and to remain on the exchange, while ensuring that investor protections are of the highest calibre.
In the last few years, the JSE has also made it progressively easier for secondary listings and the fast-tracking of inward listings.
The exchange is encouraged by the government's one-year review of its exploration strategy and its reference to the flow-through shares concept, impending cadastral system and clarity on triple black economic empowerment (BBBEE) to reinvigorate small-cap listings.
The small end of the JSE received a big boost last month with the highly successful listing of Copper 360. The exchange was also encouraged by the secondary listing of Southern Palladium in June last year, and the secondary inward listing of DRA in 2021.
It is seeing a lot of appetite around battery-related minerals and renewable energy inputs and sees South Africa as being well placed at the right time for the green revolution that is sweeping the world.
"It's giving me some comfort that we're seeing both private sector and government look to taking advantage of these developments," JSE origination and deals head Samuel Mokorosi told Mining Weekly in a Zoom interview. (Also watch attached Creamer Media video.)
The JSE is engaged with government on how more retail and more high-net-worth individuals investing into earlier stage mining companies can be brought about.
"We as the JSE are certainly pushing as hard as we can within our framework to keep inviting junior miners, exploration companies to list on the exchange.
"We are engaging with government to see what we can learn from all over the world in terms of other jurisdictions that have done better with listing these companies.
"Also, we are boots on the ground across the world wooing companies to list on the JSE," added Mokorosi.
Mining Weekly: What in your view should be done to ensure investor support for junior mining companies that are aspiring to list?
Mokorosi: We've seen some slithers of hope. Copper 360 was a successful listing recently. We've also seen Southern Palladium list in the last year or so. We are seeing some of those listings coming through, but certainly more needs to be done. It was interesting to see the government's one-year review of their exploration strategy and talking about things like the flow-through shares concept that we can borrow from the Canadian market, talking about the cadastral system that can show where all of the mining rights and the prospecting rights are, and also being clear on BBBEE. All of this is government policy that can help reinvigorate the small end of the market.
"We've also been engaging with asset managers and other buy-side participants. We're all putting our shoulder to the wheel to make smaller companies feel more welcome on the exchange and specifically give them access to capital. That's been an important theme for our activities," said Mokorosi.
South Africa has a reputation of being a mining Mecca, yet it has less than 40 listed mining companies, while other mining jurisdictions have hundreds. What should be done to encourage more mining listings and to match other mining jurisdictions at the big end of the market as well?
It's a frustration and a pity that we face on a daily basis as well. We certainly are engaging government on the capital raising side – and I've mentioned some of those great initiatives that the government is working on – but even on the financial market side, we've seen regulation that makes it harder for institutional investors to take more risk on earlier stage mining companies, like exploration companies or junior miners. We've seen legislation that makes it harder for individuals to get tax deductions on investing in small caps. We are engaging with government on the way that capital gains tax is treated for individuals versus institutions, the way that Australia's superannuation legislation that allows high net worth individuals to invest some of their pension in single stocks, helps encourage those markets to participate in earlier stage mining and exploration companies.
South Africa also has the added challenge in that the people of other countries are happy to mine here but not list here. Canadians, Australians, Chinese, English, and mining companies in so many other mining jurisdictions, are happy to invest in mining operations in South Africa, often while listed elsewhere. How can that be?
It is the nature of our stock exchange, and our broader savings industry. We are a highly institutionalised savings market. If you look at the savings industry in the hands of our institutions, which are getting larger and larger, versus our retail market, we have a much more disproportionate savings industry in the hands of institutions, and institutions are great, because they've got the expertise and the know-how to invest in these companies, but they've got incredible liquidity constraints and regulatory pressures that make them generally more conservative, whereas other markets like Australia, like Canada, even the Aim market in London, have a higher proportion of both retail and high net worth individual investors, and so that's a market that we are looking to revive on the JSE, that we can have more retail, more high net worths investing in our earlier stage mining companies. If we look at the large mining companies, it's fair to say that globally we've seen consolidation in that space and so we are fortunate that we still have mining giants on our exchange and finding value in being listed on the JSE. But you've seen consolidation globally across these large mining houses, and so that then tends to reduce the number of listed companies in the bigger end of the market cap. But our focus really is engaging the small caps mining companies to list and remain listed on the JSE.
Has the Johannesburg Stock Exchange done enough to attract mining companies that are active in South Africa but listed elsewhere to dual list here, that is, also list in South Africa as a secondary listing while having their primary listings elsewhere?
Over the last few years, we've made it easy and easier for secondary listings on the JSE. As an example, probably about 18 months ago, we had DRA, which is a mining services company, listing primarily in Australia and then in a secondary inward listing here on the JSE. What we've done there is we've said across 11 exchanges some of the leading exchanges in the world, including Singapore, which is our latest addition, we stand as a secondary listing venue so that you as a listed company adhere to the requirements of all of your primary listed venue. So, in that case of DRA, the ASX, and then we then look to regulate you on a lighter level because you're already being primarily regulated by the ASX. We even have a fast-track inward listing programme across sort of five leading exchanges in the world, and under those exchanges, your inward listing can take a few weeks. We saw that with AB InBev a few years ago. You don't even need a full prospectus. You can list with an announcement that then refers you to the home exchange and the company's website for all the required information to adhere to top notch investor protection. Those two things – ­the fast-track inward listing and the secondary listings framework ­– have made it as easy as possible for inward listings.
What could just give them that last push to do it?
We are constantly on the plane around the world meeting with potential inward listing companies. We were in New York late last year, in London as well. We are in London again this year, as well as Singapore, meeting with these companies. Obviously, the decision to list anywhere in the world is never an easy, quick one, but we believe that we're starting to see some fruit of the labours of years of wooing these companies to list domestically, even if it's a secondary listing or even a fast-track.