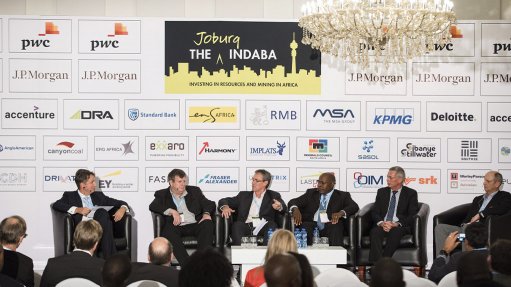 FRANK CONVERSATIONS The Joburg Indaba is a place for frank and honest discussions on issues that are pertinent to the South African mining sector
Independent consulting practice SRK Consulting is a networking sponsor at the 2019 Joburg Indaba.
Organised by resources investment conferences company Resources 4 Africa, SRK partner and principal mining engineer Marcin Wertz says the Joburg Indaba is a unique industry conference, with the direct interaction from key players in different facets of the sector.
He tells Mining Weekly that this is a distinct quality, as many other conferences cater for and are more biased towards suppliers to the mining industry.
"Industry decision-makers attend the Indaba and it is an excellent opportunity for networking. It serves as a great platform to catch up with the latest sector news, as the event places more focus on the local mining industry audience, which extends to the broader Southern Africa region."
Wertz notes that the conference's more intimate debate-style approach enables delegates to gain more insight during the different sessions.
"The debates are unlike any other because a union leader and a mining executive can directly engage with each other." He adds that this approach has been replicated at other conferences presented by the same organisers, as it tends to appeal more to international audiences.
While SRK's main aim is to increase awareness through its sponsorship of the conference, it will also exhibit its services at its networking lounge where delegates can interact with key individuals during the event.
"The Joburg Indaba is a place for frank and honest discussions on issues that are pertinent to the South African mining sector. It is quite a distinctive setting," says SRK partner and principal consultant Andrew van Zyl.
Meanwhile, Van Zyl notes that, with the industry remaining in a precarious state, it cannot afford to have stakeholders that do not appreciate the seriousness of the decisions that need to be made going forward.
"The more modern aspects, such as environmental laws, the social licence to operate and mine closures, have more recently become focus areas. Twenty years ago, there would have been no discussion at all on any of them. There has been development in all these areas and we are getting better at engaging with stakeholders," he highlights.
While this does not make mitigating these factors straightforward, as they differ in every mining environment, Van Zyl posits that there have been some success stories in areas where that might have seemed difficult initially.
Additionally, SRK associate partner and principal mining engineer Joseph Mainama notes that, while there is still some political uncertainty, the Department of Mineral Resources and Energy (DMRE) – led by Minister Gwede Mantashe – is becoming more effective and efficient.
"The DMRE has placed a lot of focus on dealing with corruption, which is positive for the sector. It provides comfort for stakeholders that things are being done correctly. The trend is positive and we are finally seeing some new opportunities as opposed to what was the case a few years ago," he adds.
Van Zyl states that the mining industry has been cognisant of the need to support local content and its role in developing local manufacturing and new technologies, besides others.
SRK has been involved in research and development (R&D) across its global group to have a better understanding of new innovations. The company is involved in several industry initiatives aimed at establishing collaborations to develop and showcase skills that are in demand.
"We recognise that the only way we can have a long-term future in South African mining – especially underground mining – is if we develop new, efficient ways of doing things, geared at enabling mine operators to have more productive hours without having to make the shifts longer," he emphasises.
This will also ensure that mining operators are able to work remotely, subsequently improving the health and safety of employees.
"We currently do not have the technology to mine the deeper reserves in gold mines, so there is an opportunity through R&D to find ways of enabling that," Mainama suggests.
Van Zyl comments that, in finding such solutions, South Africa can continue mining for decades. However, the aspirations of stakeholders regarding the future of the industry will need to be aligned.
"Messaging from industry needs people to speak with one voice. All these systems that we could adopt are not to replace jobs, as we can create jobs that, on current trends, cease to exist," he concludes.