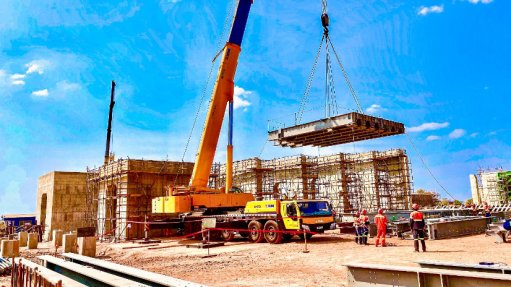 Construction under way at the Kakula mine, in the Democratic Republic of Congo.
Canadian mine developer Ivanhoe Mines will next month unveil study results highlighting the potential to develop the Kamoa-Kakula copper project, in the Democratic Republic of Congo (DRC), to a "much larger scale".
The company will on September 8 announce the outcomes of several studies for the DRC discoveries and detail options under consideration to accelerate the planned expansions at the project.
Ivanhoe will issue a definitive feasibility study for the development of the six-million-tonne-a-year Kakula mine, as well as a prefeasibility study, including mining 1.6-million tonnes a year from the nearby Kansoko mine, to take full advantage of an expanded plant capacity of 7.6-million tonnes a year at Kakula.
In addition, the company will issue an updated, expanded preliminary economic assessment for the overall development plan of up to 19-million tonnes a year for all the copper discoveries made to date at the Kamoa-Kakula project.
The Kakula mine is the first of multiple planned mining areas at the Kamoa-Kakula project, which a joint venture between Ivanhoe, Zijin Mining, Crystal River Global and the DRC government.
Development work at Kakula is under way and initial copper concentrate production is scheduled for the third quarter of 2021.
Kakula is projected to be the world's highest-grade major copper mine with an initial mining rate of 3.8-million tonnes a year, at an estimated average feed grade of more than 6% copper over the first five years of operation.
Ivanhoe co-chairperson Robert Friedland has said that a "looming shortfall in key, green metals" has to be addressed in earnest and he believes that the DRC has a key role to play in doing so.
". . . the DRC, and indeed all of Africa, has by far and away this planet's best potential for major, new, high-grade mineral discoveries," Friedland said this week, announcing a strategic partnership with China Nonferrous Metal Mining Co (CNMC).
Ivanhoe and CNMC, which owns the Lualaba copper smelter near Kolwezi and recently began operations at the Deziwa copper/cobalt mine, will jointly explore and develop opportunities in Africa.