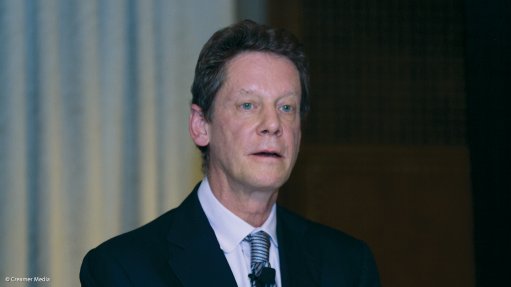 Ivanhoe executive co-chairperson Robert Friedland
Photo by: Creamer Media
TSX-listed Ivanhoe Mines has made an important new discovery of high-grade copper on its 100%-owned Western Foreland licences, west of the Kamoa-Kakula mining licence in the Democratic Republic of Congo (DRC).
This discovery, Makoko, is the first of multiple high-potential target areas identified by Ivanhoe's exploration team to be tested by drilling and is Ivanhoe's third major copper discovery in the DRC.
An initial, independent resource estimate for the Makoko copper discovery is expected to be completed in the current financial quarter.
Additionally, Ivanhoe recently began exploration drilling on other targets in the Western Foreland area to test for high-grade copper.
"This latest discovery at Makoko validates our exploration model for the geologic features controlling the high-grade copper mineralisation in the region," Ivanhoe executive co-chairperson Robert Friedland said on Monday.
He added that this model reflects the accumulation of in-depth, proprietary geological insights gained by Ivanhoe's exploration team during nearly two decades of exploring the region.
Given the early drilling success at Makoko, Ivanhoe remains highly confident that it has the "secret blueprint" for additional exploration successes in the Western Foreland area in 2019 and beyond.
"We are in the privileged position of owning 100% of a massive exploration land package with outstanding geological potential next door to our Kamoa and Kakula discoveries. Kamoa-Kakula has already been independently established as the world's fourth-largest copper project and is still growing," Friedland enthused.
While some investors are focused on short-term issues such as the DRC Mining Code revisions, and the upcoming Presidential election, Ivanhoe's philosophy is to think big and long-term, the company said.
"Our geological team has done an outstanding job of executing our strategy to continue to add shareholder and stakeholder value by keeping the drill bits turning and delivering spectacular exploration results," Friedland added.
Additionally, the DRC government has, according to Friedland, encouraged investors to continue their exploration results in the DRC.
Ivanhoe's share price gained 9% on the TSX to $3 a share on Monday.