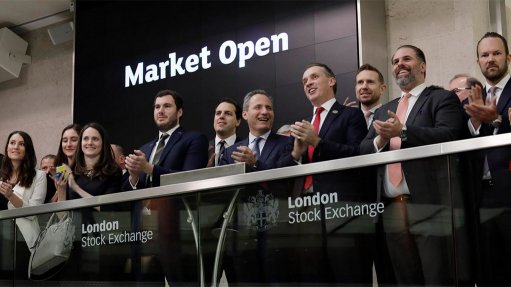 Mining Indaba, ITE Group opens LSE trading
ITE Group CEO Mark Shashoua on Friday ceremonially opened trading on the LSE, while celebrating the upcoming twenty-fifth edition of the Investing in African Mining Indaba conference, which ITE Group owns.
The LSE opening event was attended by partners from the World Gold Council, Memery Crystal, the International Council on Mining and Metals, the World Platinum Investment Council, Brunswick and Thor Exploration.
Mining Indaba, which will take place from February 4 to 7, in Cape Town, is a focused investment conference that provides high-quality content across four days, while presenting a platform for dealmaking and networking for the entire value chain in African mining.
"I am delighted to be opening the LSE [on Friday] with the Mining Indaba team, which ITE Group recently acquired, and with our industry partners.
"Our vision is to create the world's leading portfolio of content-driven, must-attend events, delivering an outstanding experience and return on investment for customers. Mining Indaba is dedicated to developing the mining industry across the African continent," Shashoua said.
Mining Indaba MD Alex Grose added that this year's event is being held at a pivotal moment for investing in South Africa, given the implementation of the latest Mining Charter and other regulatory environment improvements.
Grose said the LSE opening on Friday further cemented Mining Indaba's partnership with the LSE, which supported the event organiser's main aim of helping mining companies access capital.
He expects more than 6 000 delegates will attend this year's Mining Indaba, making it the largest one to date.