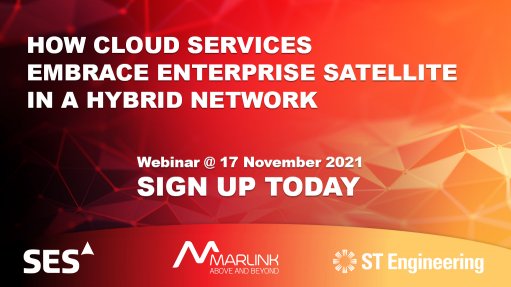 WEBINAR: Join Marlink, SES, and ST Engineering iDirect for an unmissable panel session on 17 November 2021 at 3pm CET. Explore how cloud-based services can be optimised by combining next-gen satellite constellations with terrestrial network architectures.
It's all about network optimisation! We live in a digitalised world and business networks are growing in complexity. The transition to the cloud raises concerns around speed and latency, security, and how to orchestrate the entire network and IT infrastructure.

What to expect from this webinar?
Based on the topic How Cloud Services Embrace Enterprise Satellite in a Hybrid Network, our panellists will discuss different perspectives on new network technologies that connect your business operations to the cloud.
Learn how to optimise access to cloud-based content and workloads with next-gen satellite networks
Gain insight into the key benefits of combining satellite and terrestrial network architecture to improve application performance and user experience
Discover how to reduce hybrid network complexity! Expert partners are here to support your local and global IT and network management requirements
Get prepared for the Cloud
Today, remote operations are pushing the capability of installed networks to the limit. The explosive growth of data and applications demands super-fast, reliable connections but also transition to the cloud.
Networks are becoming increasingly advanced and hybrid. New approaches to network design are enabling the technology changes that support cloud applications and remote working, combining various connectivity technologies from multi-band satellite services to terrestrial and wireless links.
Marlink, SES, and ST Engineering iDirect are working together in a smart way to provide a managed hybrid network solution to leverage cloud computing that is now established as the new normal for enterprise IT. Together, we are leveraging our unique partner strengths to enable a cloud-based network infrastructure that is stronger and more agile.
Panellists
Olivier Gommes - Technology & Innovation DIrector Enterprise, Marlink
Jan Erik Kjaer - Senior VP Humanitarian & NGO, Marlink
Simon Gatty Saunt - VP Sales, Global Service Providers, SES
Jean-Michel Rouylou - Head of Enterprise & Broadband, ST Engineering iDirect